Why Jeb Bush's 'Record Sum' Might Not Matter
He may have raised more than his big brother, but he has the advantage of super-PACs.
by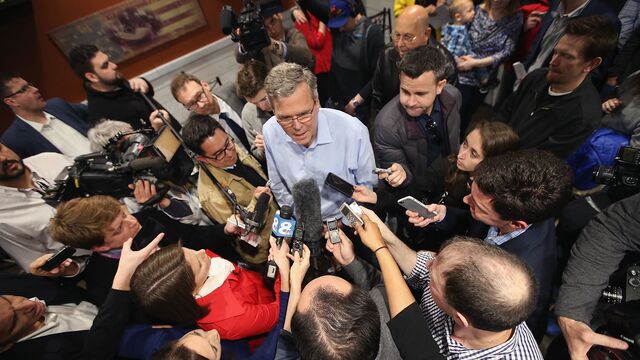 Jeb Bush's declaration to donors Sunday that his yet-to-be-declared presidential campaign has raised record-breaking amounts of early money belies a question dogging the former Florida governor:
Can big money alone fuel a winning campaign? 
What was missing from the pep talk, according to people in attendance at the behind-closed-door session for donors in Miami, were specific details or context.
In 1999, Bush's older brother, George W. Bush raised $37 million in the first half of the year and $29 million in the third quarter, breaking records and pressuring other contenders, such as Elizabeth Dole, Dan Quayle, John Kasich, and Lamar Alexander, to end their presidential campaigns swiftly or decide not to start one.
But for the launch of his ultimately successful presidential campaign, George Bush raised money in the form of many donations to his official presidential campaign committee (something the younger Bush doesn't even yet have); the legal limit this campaign cycle for donations to federal campaign committees is $2,700 per election for an individual contributor, or a total of $5,400 for the primary and general elections. When George W. Bush ran his first presidential campaign, his biggest donors could give no more than $2,000 to his campaign committee: $1,000 for the primary election and $1,000 for the general election.
Jeb Bush, who told donors gathered in Miami Beach that his team has raised more money in its initial stages than any political operation in history, according to two people he heard to remarks, has by contrast benefited primarily so far from the work of a super-PAC.  
Those types of financing entities, which can raise money in unlimited amounts provided they do not coordinate with candidates, only came into play after the 2010 Supreme Court decision in Citizens United. Donations of $1 million or more are not uncommon. So using the new fundraising vehicles to blow past numbers set by previous organizations is a comparison that doesn't completely track.
While Bush declined to identify a specific number, his comments were interpreted by those in attendance as confirmation that the former Florida governor's four-month fundraising blitz has put his potential campaign on solid footing in advance of any launch. The question is whether donors writing six- and seven-figure checks can take the place of thousands of small donors and, if not, how successful will Bush be at creating grassroots enthusiasm? 
President Barack Obama, in his 2012 re-election, seemed to find the sweet spot. A super-PAC boosting him identified plenty of millionaires and billionaires to help out. Yet at the same time, one-third of his campaign budget came from supporters giving $200 or less. For GOP challenger Mitt Romney, who had even greater help from big money super-PACS, his grassroots appeal comparatively foundered, with small donors accounting for about 18 percent of his campaign contributions. 
Bush's would-be 2016 challengers seem sensitive to this. Texas Senator Ted Cruz, addressing a crowd of wealthy potential donors this weekend in Las Vegas, boasted that some 95 percent of the $4 million his campaign raised in its first week of existence came from donors chipping in $100 or less. And on the other end of the money spectrum, Cruz hastened to add, a super-PAC that wants him to win has already locked down $31 million.
More than 300 donors made the trek to Miami Beach for the two-day summit with Bush and his top policy, finance and political aides. Representatives of the potential presidential candidate's political action committee, Right to Rise, and a super-PAC run by allies with the same name, mingled with sport coat-laden donors sporting white name tags hanging from lanyards. The donors had their pick of top officials to mingle with during Sunday night's events at 1 Hotel, the swanky, eco-friendly hotel sitting just a few feet from the beach. Bush referenced his operation's fundraising twice during a dinner for the gathered donors. 
For Bush, the event represented an opportunity not only to keep top donors in the loop, but also to say thanks for their early efforts. "This is to thank people for the efforts to raise money for the Right to Rise PACs," Bush told reporters yesterday. "I am very grateful." 
The first official numbers filed by Bush's PAC and the super-PAC, coming in July, will be crucial guideposts for any potential campaign. Expectations are high—at one point just days after the PACs lost, Republicans familiar with his finance team's meetings were pointing to bold figures as much as $100 million. Bush aides have worked to play the big expectations down, but donors here in Miami Beach all spoke as if that was an attainable number.
With the emergence of super-PACs since 2010, the ability of a single donor willing to spend millions of dollars in support of a single candidate has added a new layer of competition for candidates like Bush who bring to the table more established finance networks. It's something Bush acknowledged when talking to reporters yesterday, adding that he didn't think the "right campaign" would need to spend more than $1 billion to win in 2016.
"But in order to be competitive you've got to raise a significant sum of money to be able to build a first-rate policy team and a great campaign," Bush said. "If I go forward we're going to make every effort to reach thousands of people and ask them to contribute.
—Julie Bykowicz contributed to this report.
Before it's here, it's on the Bloomberg Terminal.
LEARN MORE