Rand Paul Defends Drone Killings of Americans in Al Qaeda
No criticism from the president's major critic.
by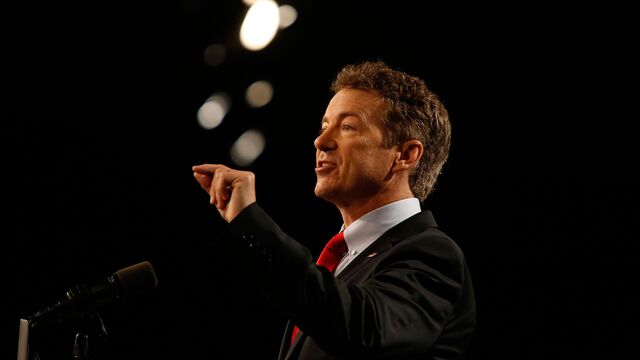 In the days after the Obama administration revealed that drone strikes had killed two Americans fighting with Al Qaeda—as well as an American and an Italian hostage—Kentucky Senator Rand Paul remained fairly quiet. The Republican presidential candidate released a short statement about the death of the hostage but said nothing about the killings of Adam Gadahn and Ahmed Farouq. He did not address them in his weekend speech to the Iowa Faith & Freedom summit or in a couple of campaign stops in the state.
On Monday, finally, Paul was pressed on drones by the hosts of Fox and Friends. He did not take the chance to criticize the strikes.
"I do think that there is a valuable use for drones and as much as I'm seen as an opponent of drones, in military and warfare, they do have some value," Paul said. "I think this is a difficult situation. You have hostages being held; some of them are American. You have people holding hostages; some of them are American. I've been an opponent of using drones about people not in combat. However if you are holding hostages, you kind of are involved in combat. So I look at it the way it is in the United States. If there's a kidnapping in New York, the police don't have to have a warrant to go in."
Had Paul—whose campaign website continues selling anti-drone T-shirts—never spoken out about drones before, this would have been a newsless answer, comparable to what other Republican candidates and politicians had been saying. But Paul has a long, dramatic record of pronouncements about drones. He's said that a drone that flew over his home would meet the business end of a shotgun. He's demanded stronger justifications from the Obama administration before it targets any American citizens. That talk has won him praise from the left and the libertarian right.
Also on Bloomberg Politics: The Definitive Rand Paul Scouting Report, by Mark Halperin and John Heilemann
Yet on Fox, Paul declined the chance to criticize the administration. "You really don't get due process or anything like that if you are in a war zone," said Paul. "I tend not to want to blame the president for the loss of life here. I think he was trying to do the right thing."
Paul's comments perplexed Glenn Greenwald, the journalist and co-founder of The Intercept who has written extensively about drone ware. "I don't get his strategy: he's never going to attract GOP hawks, so why dilute what makes him interesting/unique?" asked Greenwald on Twitter. "If his big maverick view is now reduced to 'no drone killings of Americans on US soil,' it's hardly interesting."
Before it's here, it's on the Bloomberg Terminal.
LEARN MORE