Changes to Iran Measure Would Jeopardize Bill, Reid Warns
Kathleen Miller and Terry Atlas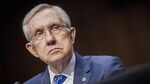 The U.S. Senate's Democratic leader urged Republicans not to demand changes that might siphon off support from his party as lawmakers debate a measure to give Congress a say in any nuclear deal reached with Iran.
Some Republicans seeking the party's 2016 presidential nomination might "want to use this good, bipartisan piece of legislation as a platform for their political ambitions," Harry Reid, the Senate's top Democrat, said on the chamber's floor Tuesday. "This bill is too important to be a pawn in anyone's political game."
The bill, which the Senate Foreign Relations Committee voted unanimously to advance earlier this month, would let Congress review an agreement before President Barack Obama could ease sanctions on the Islamic Republic. Senator Bob Corker, chief author of the bill and the panel's Republican chairman, and Senator Ben Cardin, its top Democrat, changed the legislation to garner bipartisan support in the committee.
Corker, a Tennessee Republican, said Monday that Congress has already given Obama "unilaterally the ability to waive or suspend the sanctions ad infinitum" on Iran without the input of Congress.
"The fact is without this legislation passing, Congress will have zero role," in any nuclear agreement with Iran, Corker said on the Senate floor.
Presidential Campaigns
Three Senate Republicans have announced their candidacies for their party's presidential nomination for 2016: Marco Rubio of Florida, Rand Paul of Kentucky and Ted Cruz of Texas.
White House officials had said that Obama would veto an earlier version of the measure. He agreed to accept a compromise when it became clear that Democratic lawmakers would join Republicans in demanding a role for Congress in reviewing any accord.
The compromise was brokered by Corker and Cardin of Maryland. It would cut from 60 days to as few as 30 days the time Congress has to review a final deal with Iran.
The compromise measure also removed language requiring that Iran renounce ties to terror groups before sanctions are lifted, which White House Press Secretary Josh Earnest had called "unrealistic."
Cardin replaced Menendez as the top Democrat on the committee after the New Jersey senator's indictment on corruption charges. Cardin acted as an intermediary with the administration during negotiations with Corker.
Offering Amendments
Senators are preparing to offer a number of amendments to the bill, though few are likely to be adopted in order to preserve the bipartisan support for the measure.
Senator Roy Blunt, a Missouri Republican, said he's backing amendments including one requiring that any nuclear agreement be contingent on the release of three Americans imprisoned in Iran, including Washington Post reporter Jason Rezaian.
Republican Senator Lindsey Graham of South Carolina warned fellow Republicans last week that "anybody that monkeys with this bill is going to run into a buzz saw."
"Most of you haven't lifted a finger to solve this problem, most of you haven't met with one Democrat, so don't parachute in here at the end," Graham said, addressing colleagues through reporters.
Senator Tom Cotton of Arkansas, a freshman Republican who was the lead author of an open letter telling Iran's leaders that they couldn't count on any deal they made with Obama, made it clear that he and others would press ahead.
Among the amendments to be debated, he said on the Senate floor last week, would be one requiring 51 votes rather than 60 for Congress to pass a resolution disapproving of an Iran deal. Other provisions he cited would bar sanctions relief until Iran shuts down much of its nuclear program, closes its underground facility at Fordo and "acts like a civilized country."
Before it's here, it's on the Bloomberg Terminal.
LEARN MORE