No Evidence of Clinton Foundation 'Quid Pro Quo,' Republican Governor Says
Arkansas Governor Asa Hutchinson is warning those in his party not to be overconfident.
by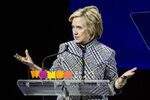 Not every Republican is convinced that the allegations made in Peter Schweizer's forthcoming book, Clinton Cash, will sink Hillary Clinton's presidential aspirations, nor that it shows the candidate's family foundation is guilty of anything more than making "mistakes." 
Arkansas Governor Asa Hutchinson cautioned members of his party Sunday against overconfidence when it comes to Schweizer's blockbuster claims. 
"Republicans need to be careful not to overstate the case," Hutchinson said on Meet the Press. "There's no evidence of quid pro quo."
Schweizer made the political talk show rounds arguing just the opposite on Sunday, likening the donations made Clinton Foundation during the time that Mrs. Clinton served as secretary of state to insider trading.
Hutchinson countered that all the Schweizer's book really shows is "evidence of mistakes" made by Clinton Foundation. Furthermore, Hutchinson said that, ultimately, those mistakes would not end up swaying a majority of votes.  "It doesn't impact her base or the Republican base," Hutchinson said of the allegations. "It impacts the voters in the middle."  
The debate over whether donations made to the Clinton Foundation resulted in favorable treatment from Clinton's State Department gained steam Thursday, when the New York Times published a lengthy article detailing the sale of a uranium mining company with holdings in the United States to Rosatom, the Russian nuclear agency. Many Republicans who read the piece, such as former Massachusetts Governor Mitt Romney, argued it showed Clinton had essentially been bribed during her tenure as secretary of state. 
"You know, I've got to tell you, I was stunned by it. I mean, it looks like bribery," Romney said in a Friday interview with Hugh Hewitt. "I mean, there is every appearance that Hillary Clinton was bribed to grease the sale of, what, 20% of America's uranium production to Russia, and then it was covered up by lying about a meeting at her home with the principals, and by erasing e-mails. And you know, I presume we might know for sure whether there was or was not bribery if she hadn't wiped out thousands of e-mails. But this is a very, very serious series of facts, and it looks like bribery."
Clinton campaign press secretary Brian Fallon posted a detailed response to the Times article on Thursday, refuting the bulk of  its claims, and, in essence, arguing that there is no evidence of quid pro quo. 
Before it's here, it's on the Bloomberg Terminal.
LEARN MORE