Martha Stewart Signals Support for Hillary Clinton
"I like the lady that's running," the lifestyle guru says.
by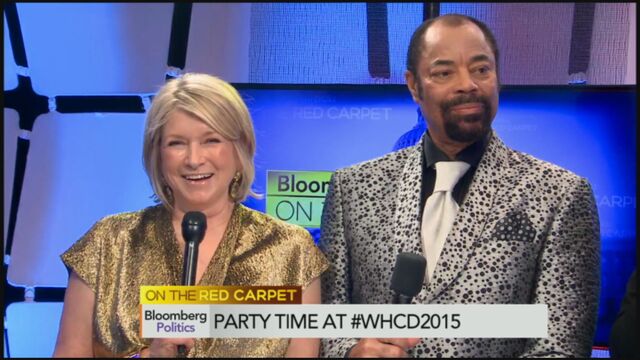 Martha Stewart suggested Saturday she supports Hillary Clinton's White House campaign, and gave President Barack Obama an A for effort.
"I like the lady that's running," the media mogul and lifestyle guru told Bloomberg's John Heilemann ahead of the White House Correspondents' Dinner in Washington. She did not say who that was, but Clinton, whom Stewart has previously supported, is the only woman to have announced a major candidacy.
Also on Bloomberg Politics: Photos of the 2015 White House Correspondents' Dinner Red Carpet
Asked if she meant Carly Fiorina, a Republican expected to announce her candidacy in May, Stewart chuckled.
In addition to making campaign contributions supporting Clinton, Stewart has also cut checks for Obama and other Democrats over the years, according to the Center for Responsive Politics.
On Obama's record, Stewart was more demure. Model Chanel Iman said that the next president should be "someone that can take our country into a positive, great place" and that she believed Obama had done that. Commerce Secretary Penny Pritzker agreed.
"I think he's worked really hard toward that end," Stewart said. 
Before it's here, it's on the Bloomberg Terminal.
LEARN MORE