Martha Stewart and Hillary Clinton: A History of Decorative Collaborations
Stewart hinted that she's a Clinton fan on Saturday.
by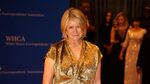 Lifestyle mogul Martha Stewart on Saturday signaled possible support for Democratic frontrunner Hillary Clinton at the White House Correspondents Association Dinner.
"I like the lady that's running," Stewart told John Heilemann from the dinner's red carpet event. Asked if by that she meant Republican Carly Fiorina, who is expected to announce her candidacy in early May, Stewart laughed. 
Stewart and Clinton actually have a bit of a history together. Since the mid '90s, Stewart has been called upon from time to time by the White House for decorating matters. In one clip from 1995, Stewart helps Clinton, then the first lady, select and place a White House Christmas wreath. The two talk about the symbolism in the wreath, which includes leaves from Washington's official tree, the oak. 
Later, in 2000, Stewart visited the White House again for a tour with Clinton. Clinton explained all of the decorating projects she consulted on during her husband's two terms as president. At that point, Clinton had just been elected to her Senate seat. She talked to Stewart about the redecoration and preservation projects around the house. 
At the time, Clinton had just released her book An Invitation to the White House: At Home with History, which showcased the different rooms of 1600 Pennsylvania Avenue. 
"Most people will never get to come to the White House, so this behind-the-scenes look gives everybody a change to see what it's like," Clinton said. 
Clinton also talks about redecorating the dining room, and how she originally intended to model the room the way it was in Theodore Roosevelt's day. When she looked back at pictures, though, she discovered the room was full of mounted animal heads back when the avid hunter was president, so she changed course a bit. 
In that same special, Clinton shows Stewart the remodeled Blue Room, and talks about having chosen a deeper shade for the room. 
Clinton points out the chairs in the room, which are part of the original set of furniture former President James Monroe bought for the house. She tells a story about how Monroe put in the order for some relatively simple mahogany furnishings from a Paris provider, but the purchasing agent was taken aback by the no-frills package. 
"The agent thought there must be some mistake if this is going into the home of the  president, so they gilded it," Clinton says in the video. 
The two collaborated even after Clinton had left the White House. When Clinton was Secretary of State in 2009, she invited Stewart to help decorate Blair House, where visiting dignitaries to the White House stay, for Christmas. 
Before it's here, it's on the Bloomberg Terminal.
LEARN MORE