Don't Underestimate Hillary Clinton, John Kasich Says
The Republican also takes a shot at Wall Street "greed."
by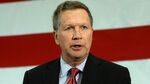 Possible Republican presidential candidate John Kasich says he doesn't count out Democratic frontrunner Hillary Clinton.
"She'll be a very formidable candidate," the Ohio governor said in an appearance on CNN's State of the Union on Sunday. "I mean she's having a lot of problems now, going to have to answer a lot of questions, but anybody that underestimates Hillary Clinton I think makes a mistake. You know, they underestimated her husband."
Kasich said Clinton and other candidates all have a shot at winning the swing state he leads, so long as they don't run divisive campaigns.
"People that come in and want to divide are not going to do very well," he said.
Also on Bloomberg Politics: The Definitive Hillary Clinton Scouting Report, by Mark Halperin and John Heilemann
Kasich, a former chairman of the U.S. House Budget Committee and managing director of Lehman Brothers, also took a shot at Wall Street. Asked about the charge that Republicans are too close to the financial industry, he said he has "said all along that I think there is too much greed" there.
"There's nothing wrong with making money," he said. "There's a lot of good, but you can't just be totally dedicated to making money without, you know, sort of doing some good in the process."
Interviewer Gloria Borger said it sounded like he had been influenced by liberal Massachusetts Senator Elizabeth Warren. He responded, "Maybe there's a little bit of me in her."
Before it's here, it's on the Bloomberg Terminal.
LEARN MORE