Marco Rubio Says Governors Aren't Ready for Presidency on Day One
The Republican presidential candidate speaks to the Des Moines Register before his first public appearance in Iowa since announcing his bid.
by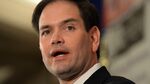 DES MOINES, Iowa— Governors running for president—including, potentially, Wisconsin Governor Scott Walker and former Florida Governor Jeb Bush—are inherently inferior because they lack the foreign policy experience held by members of Congress, Senator Marco Rubio of Florida said Saturday in Iowa. 
"Governors can certainly read about foreign policy in briefings, and meet with experts, but there is no way they'll be ready on day one to manage U.S. foreign policy because the learning curve alone would take a number of years, and you see that reflected in the history of the presidency," the Republican presidential candidate told reporters and editors for the Des Moines Register.
What about Ronald Reagan, a former governor and Republican icon?
"Ronald Reagan was someone, first of all, that had spent a number of years talking about foreign policy, more than a dozen years after he left the governorship of the state of California, he dedicated to foreign policy," Rubio said. "He also faced a pretty straightforward threat, and that was the expansion of Soviet-style Communism at the expense of U.S. influence." Rubio also added that Reagan "faced some other threats like the Iranian hostage crisis."

Rubio's hour-long meeting, primarily with members of the Register's editorial board, was held before he made his first public appearance in Iowa since announcing his presidential bid. (Bloomberg was invited to attend the session as a polling and news partner of the Register.) 
Rubio did not always seem to follow his assessment Saturday that governors are not ready for the presidency. In 2008, before he was a senator, Rubio campaigned for, and endorsed, former Arkansas Governor Mike Huckabee over Senator John McCain of Arizona.
Later in the day, Walker challenged Rubio's remarks, speaking to reporters in suburban Des Moines.
"Leadership is the key ingredient," Walker said. "In my lifetime, particularly when it comes to national security and foreign policy, the most impressive, impactful president on foreign policy was a governor from California, certainly, Ronald Reagan."
He continued, "The worst president, when it comes to foreign policy, was a freshmen senator who sat on the foreign relations committee from Illinois. That doesn't mean that every governor or senator is necessarily good or bad, but I think it does show that the key ingredient is leadership. That's something we're shown in Wisconsin."

Rubio, Walker, and Huckabee are among the declared and undeclared Republican presidential candidates descending on Iowa this weekend for an event Saturday evening sponsored by the Iowa Faith & Freedom Coalition. Others scheduled to attend include senators Rand Paul of Kentucky and Ted Cruz of Texas, as well as Governor Bobby Jindal of Louisiana, former Governor Rick Perry of Texas, former Senator Rick Santorum of Pennsylvania and former Hewlett-Packard CEO Carly Fiorina.
In the Register interview, Rubio said the next president faces at least five major foreign policy tests: the rise of China; the rise of Sunni extremism; Putin's testing of the North Atlantic Treaty Organization (NATO); the nuclear and regional ambitions of Iran; and North Korea's nuclear ambition. "Any one of these threats are potentially catastrophic for the world," he said.
Drawing an explicit contrast with other potential candidates, Rubio said that he sees classified briefing materials daily. "I'm privy to the most sensitive information available to the U.S. government," he said. "Certainly, I think that a governor is capable of learning about all this. But they all have to rely heavily on the advice of the people around them for a significant period of time."
Rubio also sought to distance himself from a former senator who is now president, Barack Obama. "First, I'm not just a freshman senator. I didn't just suddenly appear on the scene in 2010," he said, before outlining his time in local and state government, including in leadership roles.
"I'm running for office with much more experience and qualifications than Barack Obama had," he said. "I have been a legislative leader in the third-largest state in the country who has served in the Senate four-and-a-half years and invested a significant amount of time on national security issues."
On immigration, Rubio worked to assure Republicans activists who have been skeptical about his position. Their uneasiness is owed largely to Rubio's leadership role in a failed comprehensive immigration bill in 2013 that included a path to citizenship—which some in his party call amnesty.
"We have less support today for the Senate bill than the day it passed," Rubio said. "I believe the key that unlocks the ability to make progress on immigration is to prove to the American people that that illegal immigration is under control."
The order of events on immigration should be enforcement, modernization of existing legalized system, and then dealing with the estimated 12 million undocumented in the U.S.  "You are never going to seal the border," he said. "The number of illegal immigrants is never going to be zero, but it needs to be significantly less what it is right now."
Rubio said that a system should be put in place that allows people not legally in the country to undergo a background check, pay a fine, and start paying taxes. At least initially, he said, "the only thing you would get in return is a permit that allows you to work in the United States."
Before it's here, it's on the Bloomberg Terminal.
LEARN MORE