Why the Only Jewish Republican in Congress Thinks His Ranks Will Grow
The weekend of the Republican Jewish Coalition Spring Meeting, a conversation with Lee Zeldin, the only Jewish Republican in Congress—and Eric Cantor, the Jewish Republican who might have been Speaker of the House.
by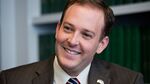 The average Las Vegas summit might include tournaments of golf and poker—but likely not a Shabbat dinner, too. This weekend's Republican Jewish Coalition Spring Leadership Meeting will have them all. It brings together a constituency that so far has produced much more in the way of political clout than in representation in Congress.
Host Sheldon Adelson, the largest individual donor in the last presidential election, has attracted an all-star cast of speakers headed by former President George W. Bush and two fellow Texans in various stages of mulling a run for the office Bush once held: Senator Ted Cruz and former Governor Rick Perry. Also on the agenda are 2012 Republican presidential nominee Mitt Romney and House Speaker John Boehner, who invited Israeli Prime Minister Benjamin Netanyahu to address a joint session of Congress last month without first notifying the White House.
Of the 298 Republicans serving in the 114th Congress, however, only one is Jewish: Lee Zeldin, elected last year from the easternmost tip of Long Island. This has given Zeldin an unusual seat from which to watch the tensions percolate between Netanyahu and President Barack Obama.
Zeldin believes Obama's rocky relations with Israel's leader could mean more Jewish support for the Republican party—and the election of more Jewish Republicans. 
"We are a few shy of a minyan," Zeldin joked, referring to the quorum of ten adult Jews required for certain prayers and religious obligations, "so hopefully we can make some progress in the next couple cycles to increase our numbers to more than one." 
As voters, Jews support the Democratic Party over the Republican Party by a ratio of more than three-to-one, according to a 2013 survey by the Pew Research Center.
"There's no secret that the American Jewish population has been disproportionately Democratic," acknowledged former House Majority Leader Eric Cantor, who was on track to become the first Jewish Speaker of the House until he lost a 2014 congressional primary to Tea Party challenger David Brat. Cantor spoke to me by phone from Moelis & Co., the investment banking firm where he is now a vice chairman and managing director.
In the 2008 presidential election, 78% of American Jews voted for the Democratic nominee, Barack Obama. Four years later, in the 2012 election, 69% of Jews voted for Obama. Zeldin sees a pattern here—a pattern he expects to continue. "The rising number of Jews voting Republican is no coincidence," Zeldin said by email. 
"The Obama Administration has created more and more daylight between themselves and the Israeli prime minister," Zeldin said. "The president continues to double down and triple down on a flawed foreign policy that is contributing to a destabilizing of the Middle East. President Obama is operating as if he doesn't grasp who truly are America's friends and enemies in that region of the world."
The conservative intellectual Norman Podhoretz once wrote, "To most American Jews, then, liberalism... is the very essence of being a Jew."  But Zeldin thinks that may be changing, in part thanks to outreach to Jewish voters. "The Republican Party is more unified than ever before in our support for Israel," said Zeldin, who plans on attending this weekend's Republican Jewish Coalition meeting.
Only 2.2 percent of the American population is Jewish. So why should protection of a Jewish state become a focal point of so much campaign debate? "We share the same enemies and we understand that a strong, loyal friendship strengthens each nation," said Zeldin.  
Cantor cited the Obama administration's efforts to get a nuclear deal as a deviation from that understanding.  "We're dealing with a terrorist regime in Tehran that is certainly not one we can trust," he said. "We could be well on the way to see nuclear proliferation in the Middle East and real danger for the U.S.A. and for Israel."
As to why Republicans have lagged in getting support from Jewish voters, Cantor reflected:  "There are a lot of things that people could point to as to why that is the case—whether the Republican party did the job when waves of Jewish immigrants came to the country or not." He added, "I do think that the Republican Party is a welcoming place for all religions."
There is a certain trajectory at play—the journey, past generations, from immigrant to Republican—and Israel can be the linchpin. Sheldon Adelson, in fact, is an example of this motion. Adelson, whose father drove a taxi, gets around these days in one of several jets. He was raised in a one-room tenement in Boston, in an immigrant Jewish family. Like many of that demographic, he counted himself a Democrat.
But on November 4, 2012—two days before the latest presidential election—Adelson wrote, in an op-ed in the Wall Street Journal, "The Democratic Party just isn't what it used to be." On charity, neighborliness, on economic ideals, and on support for "liberal democracies like Israel," the Republican line was closer to his. That year, Adelson, who has donated hundreds of millions of dollars to Jewish and Israeli-related organizations, gave the Republican Party $93 million through SuperPACs, making him, according to the Forward, the party's highest donor.
Adelson has underwritten congressional trips to Israel, specifically for Republican representatives. These photo-ops play well to the party base. Cantor mentioned the huge "pillar of support in the Christian Zionist community that believes in the right to a Jewish State. That is part of the Judeo-Christian heritage that our country shares with Israel."
Adelson has not yet endorsed a candidate for 2016. Nor has Zeldin, who, a spokesperson told me, has never met Adelson. Cantor, for his part, has narrowed the field down to "four candidates from which our nominee will come: Jeb Bush, Marco Rubio, Chris Christie, Scott Walker." 
And now, Adelson and his coalition directors are celebrating a drop of Jewish support for Obama.
Before it's here, it's on the Bloomberg Terminal.
LEARN MORE