What Happens When Hillary Clinton Talks Reproductive Health on the Trail
How a quote about declining maternal mortality rates around the world turned into a story about abortion in the U.S.
by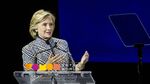 Who knew talking about maternal mortality rates could be so controversial?
During Hillary Clinton's keynote address at Thursday's Women In the World conference, the presidential candidate said that despite a drop in the rates of death during childbirth, women still don't have access to "reproductive health care and safe childbirth," and that "deep-seated cultural codes, religious beliefs and structural biases have to be changed" to achieve the full advancement of women. By Friday, The Hill and conservative sites Hot Air, The National Review, The Daily Caller (twice) and Life News reported that she was arguing that people, including in the United States, need to change their religious views on abortion.
Louisiana Governor Bobby Jindal, a prospective candidate for the Republican presidential nomination, took it even further. "Hillary Clinton said that people who are pro-life have to change our religious beliefs," Jindal declared in a statement issued by the American Future Project, a group supporting Jindal's as-yet undeclared campaign. "Our religious beliefs are between us and God, not us and Hillary Clinton." In an obviously hastily produced video, Jindal seeks to turn the Clinton comments into a fundraising opportunity.
For reference, here's the full quote (the news sites did not include the reference to maternal mortality rates): 
"Yes, we've cut the maternal mortality rate in half, but far too many women are still denied critical access to reproductive health care and safe childbirth, and laws don't count for much if they're not enforced. Rights have to exist in practice — not just on paper. Laws have to be backed up with resources and political will. And deep-seated cultural codes, religious beliefs and structural biases have to be changed."
A moment earlier she pointed out that, despite an increase in the number of laws banning domestic violence, half of the world's countries don't have domestic violence laws.
Reproductive health does includes abortion, but unsafe abortions account for only 13 percent of all global maternal deaths, according to a 2010 report from the University of Essex. The report also found that:
Globally, around 80 percent of maternal deaths are due to obstetric complications; mainly haemorrhage, sepsis, unsafe abortion, pre-eclampsia and eclampsia, and prolonged or obstructed labour […] Almost all cases of maternal mortality are preventable. An estimated 74 percent of maternal deaths could be averted if all women had access to the interventions for preventing or treating pregnancy and birth complications, in particular emergency obstetric care.
In other words, limited access to safe and legal abortions is part of the problem, but limited access to good emergency health care is a bigger problem. 
Of course, Clinton does support access to abortions for women around the world. During a 2009 House Foreign Affairs Committee hearing Clinton, then secretary of state, was asked if the Obama administration was working to weaken any "pro-life" laws in African and Latin America either directly, or with the help of the UN or Planned Parenthood, and if her definition of reproductive health includes access to abortion. "We happen to think that family planning is an important part of women's health and reproductive health includes access to abortion, that I believe should be safe, legal, and rare," Clinton said. 
Her critics interpreted her call for  "reproductive health care and safe child birth," as a veiled reference to abortion—on which Clinton's views are unapologetic, long-held and well-publicized, raising the question of why she'd bother with a dog whistle.
For the women's health advocates who were listening to her, abortion is just one aspect of reproductive health. Maternal mortality, prenatal care, infant health, preventing STIs and HIV are all global reproductive health issues. Physical and sexual violence are also reproductive health issues. The audience at the Women In the World conference—where Angelina Jolie also spoke about women refuges in Syria and Iraq—probably knows that, even if political bloggers don't.
Duane Stanford contributed reporting.
Before it's here, it's on the Bloomberg Terminal.
LEARN MORE