Ron (Not Rand) Paul Denounces Targeted Assassination of Americans in Al Qaeda
This was hardly the scenario Rand Paul imagined in his 2013 drone filibuster, when he hypothesized an attack on an "enemy combatant" within the United States, "sitting outside a cafe."
by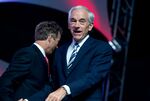 More than a day has passed since President Obama revealed the details of drone strikes that killed two Al Qaeda hostages—one of them American—and two Americans who had joined Al Qaeda. Kentucky Senator Rand Paul has remained fairly quiet, releasing a one-sentence statement decrying the deaths of the hostages, but saying nothing about the citizens who joined Al Qaeda.
This was hardly the scenario Paul imagined in his 2013 drone filibuster, when he hypothesized an attack on an "enemy combatant" within the United States, "sitting outside a cafe." Yet Paul has subsequently said that American citizens should be charged and found guilty of crimes before being killed. And some of the people who were gripped by the original 2013 argument wonder if Paul is missing a moment.
"Rand, drones killing U.S. citizens: The precise argument of your filibuster," wrote journalist Sam Tanenhaus on Twitter today. "The hawks snickered. You were right. Where are you?"
Paul's father, former Texas Congressman (and three-time presidential candidate) Ron Paul, has not been so restrained. In a new episode of his Liberty Report online show, the Texan asked rhetorically why there was so little coverage of the Americans who joined Al Qaeda and were killed by drones.
"They're automatically very very bad people, and nobody knows the circumstances—but anyway, being an American citizen means nothing in this day and age of no law and order," said Paul sarcastically. "So they were literally assassinated. This was a targeted assassination of two Americans because they were doing something that we didn't want them to do. I think this is very dangerous."
The younger Paul has parted with his father on all manner of foreign policy, to mixed success. (It's successful as long as reporters aren't badgering him about it.) There's no fresh evidence that the Kentuckian agrees with his father when he says, as he did in the new video, that "I don't think we should be hitting anybody with drones under the conditions we have today."
Senator Paul's current schedule takes him to Iowa this weekend, a shift from his earlier plans to join Politico at the White House Correspondents Association dinner in Washington. This morning, he joined Iowa's senior senator Chuck Grassley for a radio interview about fuel standards, and released a Snapchat video of a poker lesson he got from player/Instagram celebrity Dan Bilzerian.
Before it's here, it's on the Bloomberg Terminal.
LEARN MORE