Just How Female-Friendly Is Obama's White House?
In America's symbolic workplace/household, there's a new family-friendly flexibility. But much work remains to be done.
by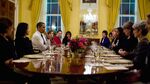 The shot comes from behind his right shoulder: President Barack Obama sits in the Oval Office, a fruit bowl on the table and weighty fiscal matters on the agenda. Ten men stand before him, his cadre of senior advisers, talking strategy. But wait, look closer: behind Dan Pfeiffer, noshing on a piece of fruit, is a limb. It belongs to Valerie Jarrett, the senior adviser known more than anything as bosom friend, "Obama whisperer."
This picture, from December 29, 2012, became a symbol of Obama's largely male inner circle, for what it showed and what it (very nearly) obscured. Debbie Walsh, the director of the Center for American Women and Politics at Rutgers University, sounded somewhere between laughter and tears when she mentioned that "little leg peeking out." Walsh said, "That gives you pause if you think about how decisions are being made when there are no women's voices in the room."
But lately, women within the White House have been giving the Obama administration high marks. Two top White House advisers have recently touted how flexible today's administration is toward expectant mothers: Jen Psaki, who on the first of April started as White House communications director, is expecting a daughter in July, and Katie Beirne Fallon, Obama's legislative director, gave birth this month. Psaki has said that, while she was being considered for her new position, she thought her pregnancy might be dispositive. "My immediate instinct in my head was to tell [White House chief of staff Denis McDonough] I'm pregnant and this will be the end of this," she told the Associated Press. "He'll tell me good luck and be very kind about it and I'll be on my merry way." But McDonough did not see her pregnancy as an impediment. And neither did Obama; he phoned her up to assure her he would be accommodating to her needs.
Fallon, too, stressed how hard the White House is working to oblige her. The cooks have prepared the foods she requests, dishes that ring distinctly of pregnancy cravings: baked potato topped with tuna fish, and frozen yogurt with Raisin Bran. Fallon said Obama checks in "constantly," and that he told her, "Don't let us get in the way of that."
All this seems to be part of a deliberate presidential effort to speak more about so-called women's issues, and to make the White House more adaptable. Brandi Hoffine, a spokesperson for the White House, told me in an e-mailed statement, "The President believes that [the White House] can and should be a model—not just within the federal government but for workplaces all across America—on flexible workplace policies." Hoffine said, "As part of that effort, the White House provides employees up to 12 weeks of paid family and medical leave. The President believes that paid leave policies are good for employees and, ultimately, good for the government as an employer because they help to retain talented and experienced staff."

Paid leave and workplace flexibility are concepts that floated high in the quick-burning American ether over the year of Obama's reelection. In June 2012, Anne-Marie Slaughter, the current president and CEO of the New America Foundation, wrote a much-read cover story for the Atlantic called "Why Women Still Can't Have It All." It began with a scene of Slaughter, then the director of policy planning at the State Department—and the first woman in that position ("I get this call from Hillary Clinton [offering] my dream job in the world")—at a swishy reception hosted by the Obamas at the American Museum of Natural History: sipping bubbly, mingling with foreign dignitaries, and worrying about her teenage son. Slaughter wrote, "Having it all was not possible in many types of jobs, including high government office—at least not for very long." She recorded other women in the government who have made similar realizations, and decisions to step down to spend more time with their family: Michèle Flournoy, after three years as undersecretary of defense for policy; Karen Hughes, after a year and a half as counselor to President George W. Bush; Mary Matalin, after two years as counselor to Vice President Dick Cheney and assistant to Bush.
For women in the professional landscape Slaughter described, women who hold the sorts of jobs where the number of hours you work is a badge of your importance, there is almost embarrassment over the admission that a parent may wish to spend time with her progeny. In an accompanying video interview with the journalist Hanna Rosin, Slaughter said that "one of the hardest sentences in the entire article to write" was the statement that she actually wanted to be home with her children. The same year, Sheryl Sandberg, the chief operating officer of Facebook and soon after the author of Lean In, "stunned the working world" by stating that she left the office early enough to make it to dinner with her kids.
In an environment where a taboo surrounds the notion that children and parents need each other, pregnancy is a particularly contentious matter. Shortly after Marissa Mayer was named Yahoo's CEO, she announced that she was pregnant, then said, "My maternity leave will be a few weeks long and I'll work throughout it." She wound up taking only two weeks, building a child's nursery next to her office, and then ending Yahoo's policy of telecommuting: a sort of Shotokan stance against being considered too lenient, too soft, maybe too female, on family matters. Later, facing pushback, Mayer extended Yahoo's parental leave policy and added a $500 stipend for new parents. Other tech enterprises also offer such policies and baby stipends (at Facebook, it's $4,000). But these are all private companies making their own rules, in the only developed country on earth that does not guarantee paid maternity leave. The government is a public trust, and the White House a crucially symbolic workplace. Which is why Obama's effort is significant—but really, a beginning.

Last week, Obama commemorated National Equal Pay Day in Charlotte, North Carolina, at a "Working Mothers Town Hall" event moderated by a founder of BlogHer Inc. Speaking about employment practices, the president again cited his own office. "I'm trying to set an example in the White House right now. The highest level of adviser I have on the White House staff is called an assistant to the president, and we actually have more women than men right now—I think 13 to 11," Obama said.
Anita Dunn, a top adviser to Obama's presidential campaigns and the White House communications director in 2009, sees something akin to a feminist breakthrough here. She told me, "When Jen agreed to go back to the White House, I thought, this really does mark a huge piece of progress."
Dunn said, "It's not breaking a glass ceiling, but it's doing something that has not been seen as the norm in the White House in the past."
Psaki and Fallon aren't just any employees, though, but practically family members; Psaki, in particular, has been a loyal soldier. During Obama's 2008 campaign, she traveled to 46 states and five countries with him. She lived—literally—out of a big pink suitcase. Some speculated that Psaki would be chosen last year to be White House press secretary, but Obama selected Josh Earnest instead.

Liza Mundy, director of the New America Foundation's Breadwinning and Caregiving Program and author of The Richer Sex: How the New Majority of Female Breadwinners is Transforming Sex, was cautious in celebrating the White House for flexibility on this front. It's not "heartwarming," she said, to hire an experienced and well-qualified person who happens to be bearing a child. Mundy told me, "It doesn't seem like an act of heroism to hire someone because they're pregnant. The idea of hiring somebody even though they're pregnant—if you don't do that, I think that would be pregnancy discrimination."
And many women say that the more difficult juggle comes after the months of gestation, during which, after all, a mother's time is still her own, provided this is her first kid. As babies—and families—grow, multitasking becomes much harder, and dropping out of the workforce more likely.
Mundy granted that the White House is a superlative workplace. She said, "I do wonder how family-friendly that White House environment could ever really be—or whether, for everyone who works there and is partnered and has children, the partner really has the children." With a nod to the hours required in such a high-level position, Mundy added, "Sadly, the whole world of work is coming to resemble the White House, and that's going to include highly paid professionals in big law firms, but also lower-income workers cobbling together multiple part-time jobs in an era of just-in-time software and last-minute scheduling."
Dunn agreed that, employment-wise, the White House is unusually tough. "It's hard for moms, it's hard for dads," she said. "The White House, it takes so much of your emotional and intellectual energy." But she said that this White House has been unusually family-friendly. She said that Obama created "an atmosphere in which it was accepted that if you had a family thing to do, you were going to go do that—whether it was Rahm [Emanuel, Obama's first chief of staff], who brought his children to the office on weekend meetings. [Former press secretary] Robert Gibbs's son Ethan was a very popular participant on the campaign trail. People didn't feel that they had to apologize or feel guilty."

Dunn points to the Obamas' own biographies to explain this less rigid professional atmosphere. "It's worth noting that Barack and Michelle Obama were dual-income working parents with very young children," she said. "They had the same issues in terms of juggling schedules: child has an event at school, child gets sick in school someone has to pick child up."
These efforts—and Obama's mention of maternity leave and childcare in his most recent State of the Union address—are part of an effort to build another aspect of a progressive legacy. But the work is incomplete. Obama has done better than every president beside Bill Clinton in bringing women into his administration, according to Walsh of the Center for American Women and Politics, but his Cabinet remains vastly more male than female. (On its website, the White House lists 23 members of the Cabinet and positions of Cabinet-rank status; of these, 18 are men and 6 women.) Marie Wilson, founder of the White House Project and Take Our Daughters to Work Day, and the former president of the Ms. Foundation for Women, told me, "It seems to me that women have been more in operative positions rather than at the very top"—more support, less strategy. Psaki and Fallon herald the accommodations the Obama White House makes to their pregnancies, but Obama has never had a female press secretary, nor chief of staff. The question now is when that day might come, and who might be willing to juggle that demanding position and the demands of mothering young children, not to mention the body's demand for sleep.
Women are still expected to be the primary caregivers, even when they are working jobs that are more than full time. In her article, Slaughter concludes that the country must close the "leadership gap." If women are represented equally at the very top—literally equally, this means a woman president, 50 woman senators, and about 220 House representatives—then the shape of labor and workplace conditions might actually stop using men as the model for the American worker.

The president does not deny that there is still a ways to go. Last week in Charlotte, he remarked, "Let me say, Michelle would point out that first ladies get paid nothing." For emphasis, he added, "So there is clearly not equal pay in the White House, when it comes to her and me."
Before it's here, it's on the Bloomberg Terminal.
LEARN MORE