First Lady Is an Unpaid Gig, and in 1912, a Man Named Henry G. Freeman Thought That Was Unfair
His $12,000 annual gift for first ladies has run up against the law.
by and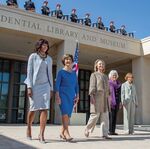 In 1912, Henry Freeman Jr., a wealthy Philadelphia lawyer and real estate investor, set aside money in his will to provide the first lady of the United States with $1,000 a month, or $12,000 a year, "for her own and absolute use." The money, he determined, would be held in the Henry G. Freeman Jr. Pin Money Fund—a reference to a common idiom for spending money husbands gave their wives. Freeman, whose estate was worth more than $2 million when he died, wrote in the will that he felt the president was paid "a miserable pittance for a man holding the greatest position on earth." It was $75,000 then, worth more than $1.3 million in today's dollars, more than triple the $400,000 President Obama is paid. He found it even worse that first ladies—or anyone serving as the White House host—got nothing at all. The payments, Freeman instructed, would continue "in force as long as this glorious government exists."
The U.S. government continues to exist, but according to the Obamas' tax returns, Michelle Obama hasn't gotten any pin money since 2010, when she received $10,000 from the Freeman fund. It turns out the grandiose terms of Freeman's will collided with a legal doctrine known as the Rule Against Perpetuities, which puts a 21-year limit on some noncharitable bequests following the death of the last surviving beneficiary.
Freeman died in 1917. His pin money fund began paying out in 1989, after Freeman Burrows, his last direct heir, died. The first first lady to benefit was Barbara Bush, who received $36,000 in a single lump sum in December 1992, 90 years after the will was written, once probate courts released the funds. At the time, a Bush family spokesman said she gave some of the money away and used the rest to "do something nice for her grandchildren," the Washington Post reported. When Bill Clinton was in the White House, Hillary Clinton reported in her annual tax disclosure that she donated her payments to charities, but she declined to specify which. Laura Bush didn't say what she did with the money. By the time Michelle Obama arrived at the White House, the annual pin money disclosure had become a quirky but familiar feature of the first family's annual tax returns.
Then, after the Obamas released their taxes in 2011, it vanished. Pennsylvania abolished its rule against perpetuities in 2006, but because Freeman's death predates that change, it's not clear whether the money should still be paid out or not. When the clock struck 21 years after Freeman Burrows's death, the estate's trustees at Wells Fargo (the current successor of Henry G. Freeman's Philadelphia bank) faced a dilemma. "The trustees probably got nervous and stopped paying," says Martha Jordan, a law professor at Duquesne University in Pittsburgh, who's written about the state's rule against perpetuities. Wells Fargo declined to comment, citing privacy rules.
Obama solved the problem by releasing her claim to the cash and directing the trustees to disburse the remaining funds to charities named in Freeman's will, including a hospital and school in Philadelphia. (The White House and Wells Fargo wouldn't name them.) "If he died this year with this thing, it could go on forever," Jordan says. "Whether that is a good idea is a whole nother question."
The bottom line: An unusual gift to first ladies, meant to endure as long as the U.S. government, has run into legal problems.
Before it's here, it's on the Bloomberg Terminal.
LEARN MORE