The Koch Primary: Club for Growth, Marco Rubio Going After GOP to End Ex-Im Bank
The big conservative money versus the big establishment money.
by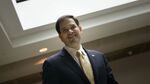 The Club for Growth is making an ad buy in the districts of several establishment-friendly Republican members of Congress, pressuring them to vote against reauthorizing the Export-Import Bank when an expected compromise bill comes up. The total buy, across four districts, is "north of $500,000," according to Club spokesman Doug Sachtleben.
Its targets: new Georgia Representative Buddy Carter, North Carolina Representative Renee Ellmers, Tennessee Representative Stephen Fincher, and Texas Representative Bill Flores. Fincher is the key proponent of the compromise; Flores is the Republican Study Committee chairman whose support from leadership inspired some conservatives to leave the group; Ellmers has faced tough primary challenges ever since she took her seat. 
Notably, the ad makes its case against Ex-Im by citing conservative columns and by telling voters—all in conservative districts—that most Republican candidates for president now oppose the bank. It's the latest example of an issue being driven from the deep-pocketed conservative pressure groups, through the people who want to be president, past the "establishment" represented by manufacturer's groups and the Chamber of Commerce.

At noon on Thursday, Florida Senator Marco Rubio hopped on a conference call with Americans for Prosperity's CEO and government affairs director to discuss his own opposition. "The government should not be picking winners and losers when it comes to the free market," he said, repeating one of the bumper sticker slogans of the Tea Party movement.
Two days earlier, AFP had joined a casserole of conservative groups in asking Congress to let the bank die. "America deserves an international trade policy that is based on free-market mechanisms," they wrote, "not paying foreign companies to buy exports from large corporations with political connections." Some of the groups were funded, like AFP, by the larger Koch donor network, including Freedom Partners, Concerned Veterans for America, and Generation Opportunity. And on the call, when asked if he'd welcome the support of the Kochs, Rubio gave the only possible answer.
"I would love to earn their support, of course," he said, adding tautologically that he'd "ultimately would want the support of everyone who would want to support me."
Before it's here, it's on the Bloomberg Terminal.
LEARN MORE