The 7 Most Interesting Revelations From the Clinton Reports
From Shakira to Vladimir Putin, "Clinton Cash" revelations have begun popping up everywhere.
by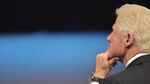 From Russian consolidation of the world's uranium to the gala where Clinton spoke of his love for a business partner to Tom Cruise and Shakira, a flurry of stories about the Clintons' financials have emerged in recent days as reporters dig into Clinton Cash: The Untold Story of How and Why Foreign Governments and Businesses Helped Make Bill and Hillary Rich. The book, by conservative writer Peter Schweizer, details complex ties between the couple, foreign and corporate donors to the Clinton Foundation, and Hillary Clinton's work as secretary of State, and it provides a wealth of revelations.
1. It all started with a dinner in Kazakhstan
That's where Bill Clinton and Canadian financier Frank Giustra dined with the country's president in 2005 after flying over on Giustra's private jet, according to the New York Times. Within days, a company of Giustra's acquired stakes in three lucrative mines from Kazakhstan's state-run uranium agency. 
2. A few deals later, Russia controlled one-fifth of the U.S. uranium production capacity
By 2009, Giustra had sold his stake in the company, called Uranium One, and it was controlled by his friend Ian Telfer, another Clinton Foundation donor, the Times said. When political scandal in Kazakhstan threatened to sink Uranium One that year, the Russian atomic energy agency attempted to buy a stake in the company, which by then also had rights in the U.S. Because of national security concerns, though, a panel of federal agencies had to approve the deal for the company. Hillary Clinton's State Department was one of the agencies that agreed to support it despite some opposition in Congress. Russia has since escalated its stake. 
3. Bill Clinton and Frank Giustra are close
Together, they lead the Clinton Giustra Sustainable Growth Initiative at the Clinton Foundation. The former president also traveled with Giustra, including when he met with foreign leaders in an attempt to build Giustra's companies, according to accounts in the Times and Politico. "I love this guy, and you should, too," Bill told "Friends of Frank"—including Tom Cruise, Elton John, and other stars—at a gala for their intiative, according to the Times. 
3. Their joint project owns shares in a Bangladesh mine
In June 2009, Bill Clinton and Frank Giustra's initiative received a donation of two million shares in mining investment firm Polo Resources, the Wall Street Journal reported. Two months later, the U.S. ambassador to Bangladesh pushed the country's leadership to allow pit mining, including at a site where Polo owned a stake. Approval to develop the mine is still pending, the Journal said. Shares in the London-based company have since declined in value. 
4. Hillary Clinton made a 'personal pitch' to Russia to buy Boeing jets
In 2009, Hillary Clinton, as secretary of State, "made a personal pitch" to a Russian state-owned airline to buy Boeing jets, according to the Washington Post. Three years later, Boeing sponsored an event in Boston where Bill earned $250,000 for speaking. Hillary, who had agreed to disclose primary sponsors of events where Bill spoke, didn't disclose the company's connection because it was "sub-sponsor," the Post said, a common practice that frequently resulted in foundation donors, foreign governments, and companies with business before the U.S. government going unnamed. 
5. The Clinton Foundation confused millions in donations with zero donations
For three years running, the foundation said it received zero donations from foreign governments on its tax forms, according to Reuters. It will refile those, and at least two other years, now that it admits it actually received tens of millions from foreign governments.
6. Wall Street loves Bill Clinton
Goldman Sachs, Barclays Capital, Deutsche Bank and Citigroup paid Bill Clinton $3 million for various speeches between 2001 and 2013, according to the Post. 
7. Bill Clinton is a highly-paid speaker, but also an extremely popular one
As reporters draw connections between Bill Clinton's speeches, Clinton Foundation donations, and Hillary Clinton's actions as secretary of state, one thing remains undeniable: he fills seats. "Speech organizers, which have included universities, charities and major lecture series, report that the former president is a major draw and that he often boosts attendance for annual events," the Post reported.
Correction: A previous version of this story misstated who owned Uranium One in 2009. Frank Giustra sold his stake in 2007.
Before it's here, it's on the Bloomberg Terminal.
LEARN MORE