Senate Panel Backs Trade Bill as Pelosi Supports New Version
Carter Dougherty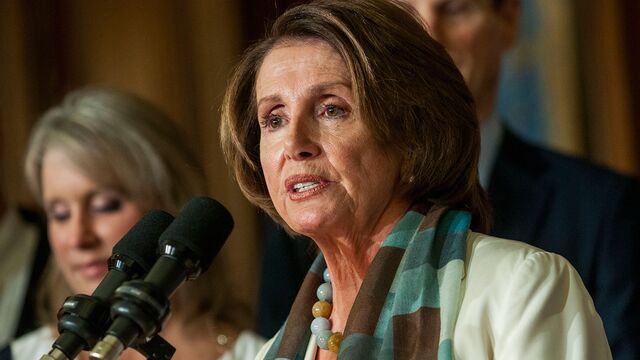 President Barack Obama's efforts to complete a significant trade accord during the final two years of his term were boosted by a U.S. Senate panel that advanced legislation strengthening his negotiating authority.
The Senate Finance Committee Wednesday night approved a compromise "fast-track" bill that would let the president submit trade agreements to Congress for an expedited up-or-down vote without amendments. The measure could boost chances Obama can complete a regional deal with 12 Pacific-rim nations.
The bill still faces strong opposition among Democrats. The Senate action came as House Minority Leader Nancy Pelosi, a California Democrat, said she supports different legislation that would let Congress slow work on trade deals, a measure that could siphon votes from the bipartisan version the Senate panel approved and the White House has endorsed.
"We've always had debate on this, regardless of who is president," Pelosi said Thursday at a Capitol news conference. "We recognize there will be bumps in the road," she said, and called the Republican compromise "more like a pothole."
With Pelosi's endorsement, a measure introduced by Representative Sander Levin of Michigan could draw Democratic votes from a bill co-sponsored by Representative Paul Ryan, the Wisconsin Republican who heads the Ways and Means Committee. The bill also faces challenges in winning a majority in the full House, where most Democrats and some Republicans are expected to oppose fast track.
Exchange Rates
The Senate panel backed the legislation by a 20-to-6 vote. The committee had approved a provision -- opposed by the Treasury Department -- aimed at punishing countries that manipulate exchange rates as part of a separate bill reauthorizing U.S. customs operations.
Ryan introduced the bill last week along with Senate Finance Committee Chairman Orrin Hatch of Utah and Ron Wyden of Oregon, the panel's top Democrat.
In the House, Representative Tom Cole, an Oklahoma Republican, said Wednesday his count showed 180 to 200 Republicans ready to support the Ryan bill on trade promotion authority, as it is also known, with as many as 30 of 188 Democrats in support.
"That's enough." said Cole, who is also the deputy majority whip in the House. "Not much to spare."
Expedited Vote
With 432 current House members, 217 yes votes are needed for passage if all members show up and cast votes.
The Hatch-Wyden-Ryan bill would let the president submit trade agreements for an expedited vote without amendments, a process Obama is seeking to wrap up the 12-nation Trans-Pacific Partnership. Levin's bill would require Congress to grant fast-track powers on every future trade accord.
The Levin bill, which will be introduced when the House Ways and Means Committee meets Thursday, would also direct the president in his negotiations on specific outstanding areas of the Asia trade pact, which U.S. Trade Representative Michael Froman hopes to complete this year.
It would also allow expedited, no-amendment considerations only if a bipartisan group of congressional trade advisers conclude that the president has followed congressional instructions.
'Back Seat'
"The Hatch-Wyden-Ryan TPA bill puts Congress in the back seat and greases the skids for an up-or-down vote after the fact," Levin said in a statement.
The Senate panel also approved a provision, sponsored by Senator Charles Schumer, a New York Democrat, that would let U.S. companies petition the Department of Commerce to impose countervailing duties on products from countries that manipulate their exchange rates.
Schumer, who has long argued that the U.S. should punish the "rapacious" behavior of China for alleged manipulation of its exchange rate, won approval by an 18-to-8 vote. The provision was incorporated into a separate bill reauthorizing U.S. customs functions.
Earlier in the day, Treasury Secretary Jack Lew said at the Ways and Means Committee that the Obama administration opposed the provision. He argued that it could expose the U.S. to retaliation from its trading partners.
The committee rejected by an 11-to-15 vote an amendment offered by Senator Rob Portman, an Ohio Republican, that would have required trade agreements that get fast-track treatment to have enforceable provisions on currency manipulation. Lew said earlier in the day this approach would "derail" the Pacific trade pact.
Before it's here, it's on the Bloomberg Terminal.
LEARN MORE