Obama's Correspondents' Dinner Monologue Has a Thousand Fathers and Mothers
A large cast is making sure the president doesn't bomb.
by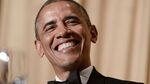 If there's a comedy equivalent to the "nuclear football," the suitcase with the launch codes, it's a worn gray folder marked "Presidential Statement" that lives in the bowels of the White House, in the speechwriters' suite, and was delivered to the President Barack Obama last night. Inside that folder is a well-guarded arsenal of jokes, roughly 1,100-words, that will come together as the president's monologue for Saturday night's White House Correspondents' Dinner. 
Preventing the president from bombing at the dinner is a fully nationalized effort, involving aides past and present as well as a task force of comedic luminaries. This year, the month-long process leaned on Zach Galifianakis and other film and television comedians as well as White House lawyers, advisers, and cadre of former Obama aides, all coordinated by chief White House speechwriter Cody Keenan and his deputy and in-house funny man David Litt, who's the youthful point-man for the monologue. Litt and Keenan put the finishing touches on their draft Wednesday before sliding it into the folder and sending it upstairs to the leader of the free world. Litt, 28, a former intern at The Onion who honed his comedic skills in a Yale improv group, said there's something uniquely American about the tradition, especially the aspect of presidents poking fun at themselves. "Not every world leader would expose themselves like that."

Until now, the president, who's been distracted by issues such as, oh, how to keep Iran from getting a nuclear weapon, or whether his push for a trade deal will hurt Hillary Clinton's bid for president, has had only a general sense of what his team is readying for this annual pop-culture rite of poking fun at himself, Washington, Hollywood, and the press.
Now it's time for Obama, who is as good a trash-talker as he is a speech giver, and who obviously enjoys his comic turns, to weigh in. "His general interest is making sure it's funny," Keenan said. "What's great about it is it gives you a chance to point out all the absurdities of Washington—and there are plenty of them."
As has become tradition, this year's process began about a month ago. Keenan and Litt considered the major news events of the past year and recent weeks in particular. They sought intelligence on which stars, newsmakers and journalists would be attending the dinner this year. Litt also reached out through e-mails and telephone calls to the available comic talent. The central players are: Former Obama speechwriter Jon Lovett, a comedy writer and producer for television who previously wrote speeches for Hillary Clinton and played Litt's role at the White House; former Obama chief speechwriter Jon Favreau, who now heads a speechwriting and media consulting firm from California; former senior adviser David Axelrod, who now directs the Institute of Politics at the University of Chicago and has been advising the Labour Party's Ed Miliband in his quest to be prime minister ahead of next month's elections in the UK; Tommy Vietor, a former National Security Council spokesman now in business with Favreau; and former senior adviser Dan Pfeiffer.
The president's comedy team also has developed relationships over the years with an array of professional comedians and writers with whom they've become connected. Galifianakis, who bonded with Obama in a surprisingly successful "Between Two Ferns" sketch as the president tried to persuade young people to enroll in his health care plan, contributed "one really good joke" for the monologue this year, according to Keenan, though he wouldn't say more; Judd Apatow; Stephen Colbert; writers for The Daily Show and Saturday Night Live including Katie Rich; Rachel Sklar, a media blogger; Jeff Nussbaum, Litt's former boss at West Wing Writers and a former speechwriter for Vice President Al Gore; and Nell Scovell, the creator of Sabrina, the Teenage Witch, and co-writer of Sheryl Sandberg's women's empowerment book, "Lean In." By the end of the process, Litt said, "I'm sure I'll write a couple hundred jokes to end up with 15 or 20 that make it into the speech!"
At the White House, as in Hollywood, those outside the inner circle do not get to see the draft of the speech before it's delivered, current and former White House aides said. Also like Hollywood, the writers are often moonlighting. The speechwriters have to juggle this task with their usual duties—perhaps five to 10 speeches a week—such as the remarks Obama gave Wednesday in the Florida Everglades. 
The trick is to guard against This-Town insularity. As a White House speechwriter, says Lovett, "I always found I'd write a joke about something that happened and I'd wonder if anyone on the outside knows about this. Now that I'm on the outside, I'll see the joke and be like, 'I don't know what this is about. I just totally missed this thing.' I'm a little less inside the bubble."
Lovett loved the gig, partly for the payback factor. "It's the best assignment in the world," Lovett said of contributing to the speech. "It's the coolest thing. It's a chance for the president to make fun of the most ridiculous people in the world. What could get better than that?"
The normal rules of presidential speechwriting don't apply to the Correspondent's Dinner routine. "This is not like a normal speech where you guard each line desperately," says Jon Favreau, "because you want to test out these jokes."
After working over the material throughout the month of April, Keenan and Litt met with Obama for the first time on this subject last Friday, at the end of a long day that included meetings with Italy's prime minister and a news conference—for a full five minutes. Then, on Thursday night, Obama and Litt and Keenan will meet again, after which point the process accelerates through the dinner. Up through Saturday night, he'll add jokes of his own, scrap the ones he doesn't like and suggest tweaks.
Litt and Keenan won't disclose much about what's in this year's routine, though Keenan said that the campaign of "2016 is a safe bet." The kitchen cabinet also is under strict orders not to dish. Some obvious jumping off points might also include marijuana, Cuba, the Clintons and basically all Republicans. Whether the president thinks Harry Reid's debilitating exercise injury is in any way funny or is still in the category of "too soon" remains to be seen.
A cone of silence hovers over the authorship of the best lines of past years. "Once they appear in the speech, they're the president's jokes," said David Axelrod. An exception is Obama's memorable roasting of Donald Trump at the 2011 dinner. In a joke shaped by comedian and film director Judd Apatow, Obama said:
I know that he's taken some flak lately, but no one is happier, no one is prouder to put this birth certificate matter to rest than the Donald. And that's because he can finally get back to focusing on the issues that matter, like, did we fake the moon landing? What really happened in Roswell? And where are Biggie and Tupac?

But all kidding aside, obviously, we all know about your credentials and breadth of experience. For example—no, seriously, just recently, in an episode of Celebrity Apprentice—at the steakhouse, the men's cooking team cooking did not impress the judges from Omaha Steaks. And there was a lot of blame to go around. But you, Mr. Trump, recognized that the real problem was a lack of leadership. And so ultimately, you didn't blame Lil' Jon or Meatloaf. You fired Gary Busey. And these are the kind of decisions that would keep me up at night. Well handled, sir. Well handled.
As he was blithely tormenting Trump, who was in the audience, U.S. special forces, on Obama's order, were preparing to kill Osama bin Laden in an extremely risky mission in Pakistan. Leading up to the speech, he'd instructed his writers to change one of the lines, about Republican candidate Tim Pawlenty, taking out a bin Laden reference. Obama suggested his reasoning was that bin Laden jokes were old-hat; only later did his team realize why he'd really wanted the change. "We had no idea what was going on, obviously," Favreau says.
The speech can be the occasion for a White House bonding ritual. Some years, on the morning before the dinner, Obama will gather his speechwriters and former aides who've come back to DC for the big party weekend, at the White House, for a final practice session. They'll reminisce and he'll run through the jokes. Most of the gang will be in town this year, and if Obama calls they'll come. 
"This is a rite of passage for presidents, but it's also an opportunity to display self-effacing humor, which is really really important for public officials," Axelrod said.
Axelrod is sitting this one out. He's tied up making preparations for the UK elections just a couple of weeks away. On Saturday night, he said, he'll watch the president deliver his monologue the way most Americans see it. "I'll be monitoring on C-SPAN." 
The president's revisions, though, may go right up until showtime. Litt says he'll be backstage, in the catwalk, just in case.
Before it's here, it's on the Bloomberg Terminal.
LEARN MORE