Paul, Cruz, Graham Response to Drone Killings
The hawks are louder than the skeptics on a dark day.
by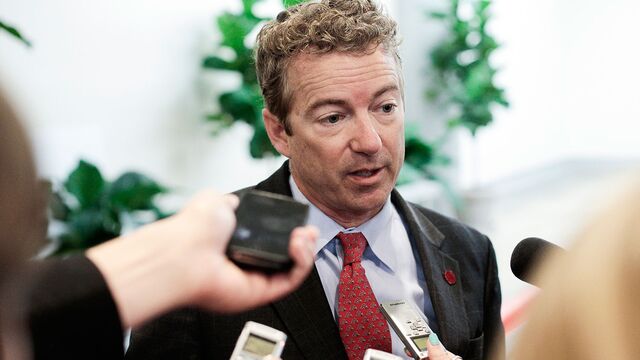 Two years ago, Kentucky Senator Rand Paul captivated the Senate and the press by waging a filibuster against the nomination of John Brennan, President Obama's new CIA director. For 13 hours, he demanded that the Obama administration offer, publicly, its legal rationale for drone strikes against American citizens, in the United States, that it deems to be enemies. The "Stand With Rand" iconography that has become part of Paul's presidential campaign dates to that literal late-night stand.
On Thursday, after the White House revealed that two hostages had been killed in a drone strike against al-Qaeda, Paul was far more circumspect. Paul avoided the more public entrances to the Senate floor, the places where reporters are typically able to grab senators for quotes. Initially, his Senate office said via e-mail that he would not have an immediate response to the killings. At 1:54 p.m., his campaign sent over a statement.
"It is a tragedy that these Americans lost their lives," said Paul. "My prayers and thoughts are with their families."
Minutes later, Paul's Senate office sent over a slightly different statement, clarifying that he was talking about the American hostage, Warren Weinstein. He did not address the killings of Ahmed Farouq and Adam Gadahn, two American citizens who had joined al-Qaeda and were killed in drone strikes. (Farouq was killed in the same attack that took the lives of the hostages.
Texas Senator Ted Cruz, who had joined Paul in that March 2013 filibuster, released a longer statement that called specifically an "investigation" into the killings--something President Obama also called for today.
"Today we received another reminder that radical Islamic terrorism remains a deadly threat to our nation," Cruz said. "Heidi and I extend our deepest sympathies to those who lost loved ones as two more innocent lives--American Warren Weinstein and Italian Giovanni Lo Porto--were claimed by ruthless violent zealots who held them hostage. There should be a swift and thorough investigation into the matter, but make no mistake: responsibility for their deaths lies firmly and unequivocally with the terrorists who kidnapped them and forcibly held them in their command center. We must now honor their memory by reaffirming our resolve to defeat the terrorists who seek to harm Americans and our allies all over the world."
Cruz's office also confirmed that Cruz viewed the killings of Farouq and Gadahn as legal acts of war. Neither of the senators-cum-presidential candidates had handled the topic with the relish of South Carolina Senator Lindsey Graham. Thursday morning, when asked by Bloomberg if he had a response to the attacks, Graham waited until a larger group of reporters could join in.
"If anybody wants to swarm, swarm now," he said. "To the families of the innocent victims held hostage by al-Qaeda, you have my deepest sympathies. I blame the al-Qaeda organization for their deaths; not the American government. As to the American citizens who were killed in the drone strikes, who were collaborating with al-Qaeda, I'm glad they're dead. Under the law of war they're subject to be killed or captured for providing direct and material support to al-Qaeda or other terrorism organizations."
When pressed, Graham said he had no questions at all about the legality of drone warfare. "Collateral damage is part of war," he said. "I've got no problem at all with anything that happened other than my deepest sympathies for those that were killed after being held hostage by al-Qaeda... they can look and see what went wrong, but I am not for stopping this program."
Before it's here, it's on the Bloomberg Terminal.
LEARN MORE