Louisiana State to Draft Insolvency Plan as Jindal Cuts Loom
Chris Staiti and Margaret Newkirk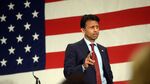 Louisiana State University will draw up a financial exigency plan, equivalent to college bankruptcy, as budget cuts proposed by Governor Bobby Jindal threaten to cripple the higher-education system.
Exigency, declared when schools face insolvency, would allow the state's flagship institution to restructure and fire tenured faculty.
"We know the worst-case scenario, we know the timeframe, and we know what's at stake," President F. King Alexander said in a statement. He said he wants legislators to "mitigate the devastation these budget cuts promise."
State cuts to higher education have sent tuition soaring across the U.S., adding to the more than $1.2 trillion in student-loan debt. While public subsidies covered almost three-quarters of operating costs in the 1980s, the share is now closer to half and falling every year, according to the State Higher Education Executive Officers Association.
Louisiana faces a $1.6 billion budget shortfall in the coming fiscal year, a result of both plunging oil-tax revenue and the state's failure to enact adequate tax increases or spending cuts after the economic downturn in 2009.
Corporate Taxes
Jindal, a potential Republican candidate for the presidency, has proposed higher-education funding cuts of more than $200 million and trimming tax credits to bring in more revenue. If the legislature doesn't approve the tax changes, the university system may face as much as $608 million in cuts.
"This is exactly why we proposed cutting over $500 million in corporate welfare to help protect higher education," said Kyle Plotkin, Jindal's chief of staff. "There are some corporations in our state that are paying zero in taxes and getting free taxpayer-funded checks from the state."
"We need to cut this corporate welfare and invest these dollars in higher education," Plotkin said in an e-mail.
The latest plans would mean an 82 percent cut to the state's public colleges and universities. Per-student funding would plummet from $3,500 to $660, according to the New Orleans Times-Picayune, causing concern at Baton Rouge-based LSU. The school may be running out of time to find a solution, as the state's legislative session ends June 11.
"We owe it to our students, faculty and staff to be fully prepared for every possible outcome," Alexander said.
Colleges use the exigency declaration as an alternative to Chapter 11 protection. Under federal law, schools that make a bankruptcy filing are barred from receiving government-backed student aid.
Before it's here, it's on the Bloomberg Terminal.
LEARN MORE