House GOP Claims to Have 'Balanced the Budget' Already
Congratulations may not actually be in order quite yet.
by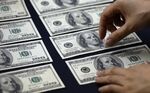 In a new promotional image celebrating its first 100 days in power, the Republican leadership of the House of Representatives puts a happy green check mark next to something that hasn't really happened. To buttress some articles about how "Congress is actually doing its job," the House GOP insists that it has "balanced the budget."

If you missed those headlines about the elimination of the deficit, don't worry: They never happened. On March 25, the Republican-controlled House passed a budget for fiscal 2016, with all but 17 members of the majority voting for it. If followed, and if its predictions panned out, it would eliminate the deficit by fiscal 2025. Among the "no" voters was North Carolina Representative Walter Jones, who complained that the budget would... not eliminate the deficit until fiscal 2025. "This budget relies on a host of smoke and mirrors accounting gimmicks and rosy economic forecasting to make it appear as if it balances in ten years," he explained.
Jones was not alone in his skepticism. Two weeks after the budget passed, Kentucky Senator Rand Paul announced a presidential campaign with a promise to—unlike Congress—balance the budget. "Congress will never balance the budget unless you force them to do so," he said. "Congress has an abysmal record with balancing anything. Our only recourse is to force Congress to balance the budget with a constitutional amendment." Implicit in that statement was that the March 25 vote was not, actually, a balancing of the budget.
So what was it? The budget was an argument, by Republicans, that by repealing Obamacare, block-granting Medicaid, and privatizing (partially!) Medicare, they'd eventually bring the deficit to zero. It was not binding on spending, because no budget is. As Roll Call's Matt Fuller suggested, describing this vote as "balancing the budget" was like describing a good conversation about a mortgage as "paying off the house." Another suggestion: It is like buying a treadmill and some healthy foods, and announcing that you have hit your target weight loss goal.
"Sadly and somewhat contradictorily," the Committee for a Responsible Federal Budget wrote last month, "the budget included a non-binding policy statement that in the future, the budget process should be reformed so those extensions should not need to be offset. If this were the case for all expired and expiring tax provisions, the budget would be running a $120 billion deficit instead of a $33 billion surplus in 2025."
Other budget hawks were similarly unimpressed. "I think they're implying that they achieved a path to balance rather than actually achieving balance, because no one would seriously believe the latter," said Jonathan Bydlak, founder of the Committee to Reduce Spending. "I appreciate that leadership is working to balance the budget, but there's still a long way to go. By their own numbers, the budget won't be balanced for another nine years. Not to mention, there's some reason to believe that the revenue numbers may be overly optimistic, to say the least."
What really matters is that House Republicans are optimistic. They had suggested some cuts that theoretically eliminated the deficit by the end of the next president's second term, and that was more than the current president had even tried to do.
"We have passed a balanced budget," said Michael Steel, a spokesman for Speaker of the House John Boehner.
Before it's here, it's on the Bloomberg Terminal.
LEARN MORE