Drone-Strike Rules Under Review After Hostages Mistakenly Killed
Terry Atlas and John Walcott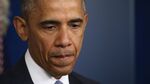 By the time missiles slammed into an al-Qaeda hideout in Pakistan, the site had been under surveillance by U.S. drones and satellites for hundreds of hours.
Confidence that the compound was a meeting place for senior al-Qaeda officials was based on intelligence that turned out to be tragically incomplete, as President Barack Obama publicly acknowledged on Thursday. The U.S. was unaware of the presence of two hostages, American aid worker Warren Weinstein and Giovanni Lo Porto, an Italian national, when the compound was hit by a drone strike in January.
The White House is reviewing the operation to find out what went wrong and led to the unintended deaths, Obama said Thursday. Others called for a more sweeping review of the entire drone-strike policy and whether intelligence gathered meets the bar of being ``nearly certain'' that no civilians or hostages will be harmed.
"What is our intelligence capability in terms of confirming that no one is there?" Representative John Delaney, a Maryland Democrat, who was Weinstein's congressman, told CNN in an interview Friday. "Are we doing enough? Do we have to recalibrate that standard, in terms of how we think about it? And what's the burden of proof?"
Obama said the review ``will identify the lessons that can be learned from this tragedy, and any changes that should be made. We will do our utmost to ensure it is not repeated."
The hostage deaths are a stark reminder of the heavy American reliance on technical means of intelligence-gathering and the dearth of human sources in the fight against al-Qaeda and other terrorist groups, said a U.S. intelligence officer who formerly served in Pakistan.
'Quality Intelligence'
Advanced satellite and drone reconnaissance and communications intercepts -- the measures underlying much of the targeting for drone strikes -- have limited utility unless they're complemented by on-the-ground reports from covert operatives and agents recruited in areas where terrorists operate and seek shelter, the officer said, speaking on the condition of anonymity to discuss classified operations.
"The value and efficacy of drone strikes depends on the quality of the intelligence," said Daniel Byman, a professor in the Security Studies Program at Georgetown University.
Obama also disclosed that the drone strikes killed two al-Qaeda figures holding U.S. citizenship. Ahmed Farouq, a dual U.S.-Pakistani citizen, was killed in the operation, and California native Adam Gadahn, a prominent al-Qaeda propagandist, also was killed in January, probably in an attack as well, according to a statement issued by the White House.
Neither was targeted, and "we did not have information indicating their presence at the sites of these operations," according to the statement by White House spokesman Josh Earnest.
Drone Critics
Critics of the administration's use of drone strikes said this rare glimpse into the highly classified U.S. operations bolsters their arguments.
"These new disclosures raise troubling questions about the reliability of the intelligence that the government is relying on to justify drone strikes," Jameel Jaffer, deputy legal director of the American Civil Liberties Union, said in an e-mail. "In each of the operations acknowledged today, the U.S. quite literally didn't know who it was killing."
Some Democrats support reviewing drone policy even though they say their use has helped thwart terrorism.
"I am satisfied with the drone program as it relates to what we're talking about here -- combating terrorism, our national security -- it's been very effective," said Delaney. "That doesn't mean we always shouldn't be looking at the standards."
Snowden Fallout
Intelligence-gathering has become more difficult after revelations by former National Security Agency contractor Edward Snowden exposed the scope of U.S. and allied communications intercepts, prompting terrorists and others to become even more wary of using the Internet, mobile phones and other technology, the intelligence officer said.
For example, the officer said, while photo and other reconnaissance was critical to successfully executing the 2011 raid that killed Osama bin Laden, the operation wouldn't have been possible without identifying and tracking a courier who carried messages to and from the al-Qaeda leader.
Earnest told reporters that the U.S. had a strong basis for the targeting decision that led to the hostages' deaths.
"Hundreds of hours of surveillance, including near-continuous surveillance in the days leading up the mission would obviously be very important and rich source of intelligence, but it's not the only source of intelligence that contributed to the targeting of this specific compound," he told reporters at the White House without elaborating.
Informing Families
Representative Adam Schiff of California, the top Democrat on the House intelligence committee, said Obama was right to declassify information "so that the families of those lost could be informed."
"The public also has a right to know about actions taken on its behalf even –- and sometimes especially -– when those operations go wrong," he said in a statement.
The U.S. generally offers no information on the drone strikes in Pakistan that are conducted by the Central Intelligence Agency, so any information comes mostly from local news reports.
The CIA reportedly has conducted seven such strikes in Pakistan this year, killing 33 to 45 people, according to information collected by the Bureau for Investigative Journalism, a nonprofit group based at City University in London.
The group said the U.S. conducted 25 drone strikes in 2014, killing some 115 to 186 people. The group's data show there's been a substantial drop in reported civilian deaths, from as many as 197 in 2010 to two or fewer in 2014 as the CIA has responded to pressure to cancel attacks when there may be civilians in the area.
'Fog of War'
In remarks at the White House Thursday, Obama expressed regret at the deaths of the U.S. and Italian hostages. In the "fog of war" there are often mistakes, Obama said. "We will do our utmost to ensure that it is not repeated."
The president said he has ordered a "full review" to "identify the lessons that can be learned from this tragedy."
Obama called the operation "fully consistent with the guidelines under which we conduct counterterrorism efforts in the region, which has been our focus for years, because it is the home of al-Qaeda's leadership."
"We believed that this was an al-Qaeda compound, that no civilians were present and that capturing these terrorists was not possible," he said. "And we do believe that the operation did take out dangerous members of al-Qaeda. What we did not know, tragically, is that al-Qaeda was hiding the presence of Warren and Giovanni in this same compound."
Hard Targets
However, terrorist groups such as al-Qaeda, Islamic State and al-Shabaab in Somalia often hold hostages in their compounds, in part to protect themselves from drone strikes and rescue missions. In addition, they're much harder to penetrate than former adversaries such as the Soviet Union, which were much larger and contained a number of officials with access to valuable information who were vulnerable to traditional intelligence tools, such as bribery and blackmail.
In contrast, al-Qaeda and other groups are small, mobile, homogeneous, zealous and puritanical.
The intelligence official said the U.S. also has become increasingly risk-averse, in part because of the partisan political atmosphere in Washington, and reluctant to assign agents without diplomatic cover, who have no protection if they're captured.
Lawmakers on the House and Senate intelligence committees said they will review the circumstances of the operation.
"More information on U.S. counterterrorism operations should be made public," Senator Dianne Feinstein of California, the top Democrat on the Senate committee, said in a statement. "This should include an annual report on the number of deaths - - both combatant and civilian -- from U.S. strikes."
Before it's here, it's on the Bloomberg Terminal.
LEARN MORE