Hillary Clinton Campaign Ramps Up Attack on Follow-the-Money Book
It comes as the New York Times builds on the author's research into Russian contributions to the foundation.
by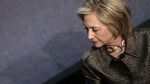 As the East Coast woke up Thursday to a new round of stories questioning the Clinton Foundation's financial dealings, Hillary Clinton's presidential campaign ramped up its effort to paint a forthcoming book on the subject as little more than a partisan attack that lacks "a shred of evidence" supporting its claims.
In a memo sent overnight to friends and allies, Clinton campaign press secretary Brian Fallon dismisses Clinton Cash as a "smear project" from author Peter Schweizer, who has "longstanding conservative ties, from working for George W. Bush to writing for Breitbart.com." The message, obtained by Bloomberg, follows a similar note from Fallon to supporters of the former secretary of state earlier in the week, as claims from the book began to emerge.
The New York Times on Thursday published a story building on Schweizer's research into Russian contributions to the foundation that came as the State Department, among other federal agencies, approved a deal that made the Russian atomic energy agency one of the world's largest uranium producers. The Times, like other news organizations that worked with Schweizer, said it used his findings as a starting point for further investigative reporting.
Also Thursday, Reuters reported that the Clinton Foundation will refile at least five recent tax returns after the news agency uncovered errors in how donations from foreign governments were reported. Some donations were under-reported by millions of dollars on the foundation's 990 forms while others were over-reported, according to the report.
Focusing on Schweizer's book, which is set to be published May 5, Fallon wrote: "As the truth comes to light, it's bad news for both the author and the Republicans taking part in his coordinated attack on Hillary Clinton. Simply put: his accusations are proving to be completely devoid of evidence even by the author's own admission."
Also on Bloomberg Politics: The Definitive Hillary Clinton Scouting Report, by Mark Halperin and John Heilemann
He continued: "The bottom line remains that the book fails to produce a shred of evidence supporting the theory that Hillary Clinton ever took action as secretary of state for the purposes of supporting the interests of donors to the Clinton Foundation."
One complication for Clinton supporters aiming to cast the author as out to get their candidate is that he is also working on a book examining likely Republican presidential candidate Jeb Bush's finances, Bloomberg reported Thursday. Tina Andreadis, a spokeswoman for publisher HarperCollins, did not immediately respond to a request for comment on the Clinton campaign's latest attack.
Fallon linked to recent news reports in Time, Yahoo News, the Daily Beast, and Politico in an effort to bolster his case for scrutiny of the author's conclusions and motivations. He vowed that Clinton, who just finished trips to Iowa and New Hampshire for small, policy-focused conversations with voters, will continue to focus on "how to help everyday Americans get ahead and stay ahead."
Before it's here, it's on the Bloomberg Terminal.
LEARN MORE