Chris Christie Says 2016 Hopefuls Are 'All Fine Americans'
The New Jersey governor promises he won't be so demure if he gets into the race himself.
by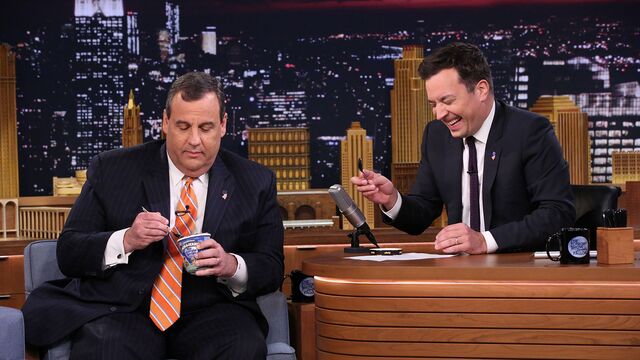 Chris Christie shared a pint of Ben & Jerry's ice cream Wednesday night with late-night television host Jimmy Fallon and withheld his opinion on the roster of declared 2016 presidential hopefuls of both parties.
During a seven-minute appearance on The Tonight Show With Jimmy Fallon that was punctuated by jabs at Christie's weight, the host ticked off a list of candidates including Republican Senator Rand Paul and Democratic former Secretary of State Hillary Clinton. The notoriously outspoken Republican governor of New Jersey demurred when asked for his opinion on the current crop. 
"They're all fine Americans," said Christie, 52, who was made no secret he's mulling over his own run. "If I run, oh, you'll find out exactly what I think of them."
During the show, Christie ate two spoonfuls of The Tonight Dough flavor from the Vermont ice cream makers. At one point in the interview, when he was castigated by Fallon for not sharing, the governor grabbed the container and moved over a chair.
Christie brushed off the weight jokes, prompting Fallon to accuse him of being too polite and ask him to "Hulk out." He reminded the governor of the well-publicized instance in which he told a man displaced by Hurricane Sandy to "shut up and sit down."
"It was sit down and shut up,'' Christie corrected him. "If you're going to do it, you've got to get it right." 
The appearance came the same day the Washington Post reported several donors led by billionaire hedge fund manager Steven Cohen have each pledged to give $250,000 to the America Leads super-PAC supporting Christie. The paper cited unnamed attendees at a recent fundraiser in Manhattan.
Christie has trailed other Republicans in opinion polls, including former Florida Governor Jeb Bush and Wisconsin Governor Scott Walker. He told Fallon he expects to make his intentions known in late May or June.
Christie spent last week in early-voting New Hampshire, where he spoke to party faithful, held two town hall meetings, and released a plan to rein in entitlement spending by $1 trillion over a decade.
"I've got a day job that's keeping me busy," he said.
Before it's here, it's on the Bloomberg Terminal.
LEARN MORE