Carly Fiorina Jumps the Gun on Her Own Presidential Campaign Announcment
The former Hewlett-Packard CEO says she'll jump into the race "within a couple weeks."
by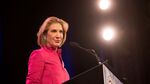 Sometimes it's hard to keep a secret. 
Carly Fiorina scuttled what little suspense remained about her forthcoming presidential campaign this week, telling an Iowa audience that she would jump into the race "within a couple weeks," the Des Moines Register reported. 
That timing does not exactly come as a surprise, given that, as the Wall Street Journal reported, Fiorina plans to announce on May 4 that she will seek to become America's first female president. While Fiorina spokeswoman Anna Epstein refused to confirm that an announcement would occur on that date, Fiorina herself made it clear that one was forthcoming. 
"When I do (announce)," the former Hewlett-Packard CEO said at a meeting of the Westside Conservative Breakfast Club, "you are going to have to help me. You are going to have to get out."
A day after letting the cat all the way out of the bag regarding her presidential plans, she returned to hammering away at her favorite political punching bag, Hillary Clinton. In a Facebook post, Fiorina blasted Clinton over problems with her family foundation's tax returns. 
"It's the Clinton way: raking in millions from foreign governments behind closed doors while making promises about transparency that they never intended to keep. Now they're scrambling to refile their taxes and account for her decisions as Secretary of State," Fiorina wrote. "The American people will have a choice. Are we going to demand trust and transparency from our leaders? Have we had enough of a ruling political class that doles out favors to the wealthy and well connected few?"
Before it's here, it's on the Bloomberg Terminal.
LEARN MORE