Tom Brady a No-Show for Patriots' Post-Super Bowl White House Romp
Angela Greiling Keane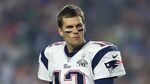 Here's the power of the presidency: It motivated Bill Belichick put on a tie and crack a smile.
Belichick, the often-dour football alchemist who coaches the Super Bowl champion New England Patriots, ditched his usual cut-off hoodie for a suit and confessed to enjoying himself when he and the team were welcomed to the White House Thursday.
President Barack Obama took note.
"I'm particularly grateful that coach decided to dress up today," Obama said. "We have some scissors if you want to cut the sleeves off. Formal hoodies are allowed."
The team overcame a dust-up over insufficiently inflated footballs in the playoffs to win the National Football League championship by beating the Seattle Seahawks. The Patriots were visiting the White House for the first time in Obama's presidency; George W. Bush thrice honored them for Super Bowl victories. The were minus their celebrity All-Star quarterback, Tom Brady, who was a no-show because of a family commitment.
Belichick even kept his smile after being needled about the controversy over underinflated game balls.
"I usually tell a lot of jokes at these events, but with the Patriots in town, I was afraid 11 out of 12 of them would fall flat," Obama said. The quip drew groans from the audience, including Secretary of State John Kerry, a former U.S. senator from Massachusetts, and White House staff members wearing Patriots jerseys and caps.
Visiting Veterans
The team visited wounded veterans at Walter Reed National Military Medical Center before meeting with Obama.
"It's put some perspective on how great we have it as athletes," the team's star tight end, Rob Gronkowski, told reporters afterward.
Wide receiver Julian Edelman called the experience "pretty surreal."
The team's official Twitter feed posted pictures Thursday of players in suits smiling in their airplane seats on the way to Washington and then exiting the plane. "Here we come Mr. President!!!" running back Brandon Bolden said on Twitter.
In his own remarks at the White House, Belichick, known for his brevity, got to the point.
"It's a great honor to be here," he said. "It's a great pleasure to be here."
The NFL announced this week that the Patriots will host the Pittsburgh Steelers on Sept. 10 to open the league's 2015 season.
Before it's here, it's on the Bloomberg Terminal.
LEARN MORE