Boehner Opens Door to House Subpoena of Clinton's E-mail Server
In his ceremonial office in the Capitol building, the speaker flared with outrage at Clinton's conduct, asserting she broke the law by failing to use a government e-mail account as secretary of state.
by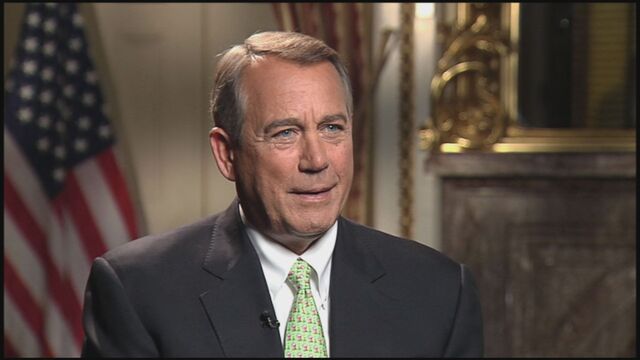 Speaker John Boehner made clear Thursday for the first time that the House of Representatives might subpoena Hillary Clinton's personal e-mail server if she doesn't voluntarily turn it over for examination by an independent party.
"I've not made any decisions yet but all options are on the table… If we need to do that, we may have to," he said. "It's important for the American people to know the truth about what happened in Benghazi and it's important to know what was going on at the State Department before, during, and after the events that occurred in Libya."
In an interview with Bloomberg Politics in his ceremonial office in the Capitol building, Boehner dropped his normally placid demeanor, flaring with outrage at Clinton's conduct, asserting she broke the law by failing to use a government e-mail account as secretary of state.
"She violated the law, and the idea that she was going to use her own server and do official business on it goes against every transparency issue that the President likes to tout," Boehner said, though he was unable to say which specific law was violated when pressed. "At some point, they just can't ignore the fact that there are a lot of public documents on this server that the American people have a right to see. And we believe that it's time for Mrs. Clinton to turn that server and all those documents over to the IG, the Inspector General, at the State Department."
On the growing controversy over the relationships between Hillary and Bill Clinton and the donors to their multi-million dollar family foundation, Boehner was more tentative, but still expressed strong interest in learning more about the facts.
"I think there are a lot of questions about what the foundation did," Boehner said. "There are a lot of questions being raised the more people get into this and at some point, they're going to have to answer the question."
At the same time, Boehner passed on making a stronger indictment of the Democratic frontrunner and her husband. Asked twice if the Clintons were "ethical and morally fit," Boehner repeated versions of roughly the same language. "I know the Clintons pretty well," he demurred, in a friendlier manner than many in his party would use about the past and maybe future first couple, "I've served with them here for eight years... They're good public servants but there are a lot of questions that are being raised. At some point they are going to have to answer the questions."
Asked to evaluate Clinton's chances of being elected the next president of the United States, Boehner put her odds at even money, adding that she would be a "formidable" candidate: "[She] could be the first woman to be president of the United States, that's kind of a big deal. But the odds are about where you would guess. 50-50."
As for the Republican presidential field, Boehner had kind words for former Florida governor Jeb Bush. In 2012, Boehner pressed Bush very hard to enter the race, even well after the primaries and caucuses were underway, and he has spoken very highly of Bush in private as a potential nominee and president. Given his role as speaker and with his home state governor, John Kasich, eyeing the race, Boehner made it clear he would not endorse a candidate, but said of Bush, "I think that Jeb can talk about the values of our party as good as anybody that we have. Secondly, he's got a track record of governor of Florida, conservative governing record that's exemplary."
The speaker says he gave Bush some advice about his run. "I told him, 'I wouldn't look at a poll for the next six, seven, eight months.' It's going to take awhile for them to get over the fact his name is 'Bush.' It's going to take them awhile to figure out that he's not George and he's not his dad."
While Boehner agreed with Bush and his advisers that he had work to do to overcome the political burdens of his family name, but he dismissed the notion that Clinton or Bush faced legacy problems that were insurmountable. "It's a nonissue. You know, both Mrs. Clinton and Jeb Bush are going to have to get to a primary in process. As Jeb said, it's not going to be a coronation. He's going to have to go out there and earn it and so is she. But if in fact the two earn it, a lot of people will get over this and begin to look at Mrs. Clinton and begin to look at Jeb Bush and their records and what they have to offer the country." He did concede, "It's a little unusual in American history, yes."
As for his own, much speculated about future as speaker of the House, the 65-year old Boehner suggested he would stay in office "way less" than ten more years and "probably" less than six more.
Asked if he would be gone in less than four years, Boehner demurred.
"Let's not get into this. I'm not going to be here forever."
"I take it one day at a time," he continued, "I enjoy what I'm doing, some days are more fun than others, I will say that….I told my staff about five years ago, if I'm 70 years old still walking around here, somebody just shoot me. Alright? How bad can it be one of these guys that dies in the saddle?"
Before it's here, it's on the Bloomberg Terminal.
LEARN MORE