Ted Cruz Encounters Former Cliven Bundy Security Chief on the Campaign Trail
The Bundy Ranch comes to the Granite State.
by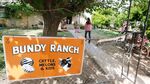 On Sunday afternoon, Texas Senator Ted Cruz spoke and met voters at what was billed as a "VIP reception" at a state representative's home. One of the people who got to talk to the senator was Jerry DeLemus, a 60-year-old former marine and conservative activist who was recovering from a hip broken during the state's long, icy winter. A former state representative snapped a photo:

One year earlier, DeLemus was in a very different setting; the low desert of eastern Nevada, working as the "commander of Camp Liberty," taking care of the safety of the people who had swarmed in to defend rancher Cliven Bundy in a stand-off with federal agents. DeLemus's 3,000-mile drive to the Bundy Ranch became a national story. 
Cruz's campaign did not immediately answer a question about whether the candidate knew who DeLemus was. The activist described a brief, pleasant conversation about the problems of federal encroachment.
"I kind of explained the problem and let him know there are some issues out there," DeLemus told Bloomberg. "We didn't have a real discussion on it; obviously, I'll be seeing him again at some point, and it'll come up, because it's a huge issue out west. I had no idea of Ted Cruz's position. It wasn't of major importance to me what his stance had been. But I wanted to bring it up. And I said it would be a good issue to talk about."
He hardly needed to convince Cruz. One year ago, Cruz told Texas radio host Chad Hasty that he fully understood why government critics were gathering at Bundy's ranch and defending his right to let cows graze on land claimed by the feds.
"The details of the Bundy matter may be complicated," said Cruz. "But I think the reason that this issue is resonating—it's resonating in Nevada and Texas, and resonating across the country—is that for five years, we have seen our liberty under assault. We have seen our liberty under assault from a federal government that seems hell-bent on expanding its authority over every aspect of our lives."
Subsequently, Cruz sided with libertarian critics of the Bureau of Land Management—a group that includes Americans for Prosperity on down to Cliven Bundy—and called for more federal land to be given back to the states.
"In my view, the BLM already controls far too much land," Cruz said in 2014. "We should be reducing the amount of federal land that the BLM controls and the amount of land that the federal government owns."
It was around this time that Bundy ruminated, on camera, about whether "the negro" had been "better off" under slavery. That effectively ended his time as a national figure, but he's remained a fixture in Nevada, lobbying the new Republican legislature to pass a bill that would demand federal land be handed back to the state. Bundy's old allies are quick to point out that the 2014 ended without the violence that the media might have expected—and that would have led to even more Republican blowback.
"I saw my role as to provide safety for everybody," said DeLemus. "My whole goal was that it ended peacefully, and that if the sheriff got involved, the crowds would disperse. And that is what happened." It made for a wonderful contrast with "what happened in Nazi Germany, when people sat back and allowed things to happen, because they were afraid of Behemoth turning on them."
Nevada will hold the fourth presidential caucus of the 2016 GOP primaries, and the land issue might be a sleeper for candidates seeking an advantage. DeLemus was just happy to meet a politician who would listen.
"Harry Reid hates me," said DeLemus. "But I don't care too much about that, to be very frank with you."
Before it's here, it's on the Bloomberg Terminal.
LEARN MORE