Obama Makes Climate Change Pitch in Florida With Eye on 2016
Toluse Olorunnipa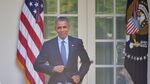 President Barack Obama said dealing with climate change can't be left to another generation and called out Republicans who've fought to derail his environmental agenda.
Obama toured the Florida Everglades on Wednesday to mark Earth Day and deliver a speech highlighting the economic costs of climate change. Using the backdrop of the Everglades' fragile ecosystem, Obama sought to make the case for his environmental agenda while indirectly criticizing Republicans who've questioned humanity's impact on global temperatures. They include Florida's governor and two potential candidates for the party's 2016 presidential nomination from the state.
"Climate change can no longer be denied," Obama said. "It can't be edited out, it can't be omitted from the conversation and action can no longer be delayed."
The state's most prominent Republicans -- former Governor Jeb Bush, U.S. Senator Marco Rubio and current Governor Rick Scott -- have all questioned the scientific consensus on climate change and its cause.
Obama, who recently called global warming a challenge that's "bigger and longer-lasting than my presidency," is seeking to elevate the issue as the 2016 presidential campaign is getting under way.
Health Impact
In recent weeks, he has cited the health impact of climate change, toured solar-panel installations in Washington and Utah and pledged to reduce U.S. carbon emissions at least 26 percent by 2025.
"This is not some impossible problem," he said. "We can solve it."
Florida, with its 1,350 miles of coastline, is particularly vulnerable to rising seas and extreme weather events, according to the National Climate Assessment released last year by the Obama administration. As the largest presidential swing state, Florida has become ground zero in the climate debate.
Florida is also one of several Republican-led states that have objected to rules proposed by the Environmental Protection Agency. Unable to pass climate legislation in Congress, Obama has relied on the EPA to force cuts to carbon emissions through regulation.
The Everglades, a swath of wetlands that covers more than 1.5 million acres in southern Florida, has become a symbol for the economic and environmental threats posed by climate change, the White House has said.
Drinking Water
Saltwater intrusion has threatened the supply of drinking water for residents in South Florida, said Leonard Berry, former director of the Florida Center for Environmental Studies at Florida Atlantic University in Boca Raton.
"If you project a two- or three-foot rise in sea level over the next 20 to 60 years, you're going to have a very compromised Everglades," he said. "We are already experiencing difficulties."
Obama toured Everglades National Park and made the argument that the tourist site -- and the dollars it generates -- will be at risk if nothing is done to prevent rising temperatures. He also announced new funding for national parks.
Matt Bellinger, who charters fishing boats in the Florida Keys, said he has already felt the impact of climate change on his business, with hotter temperatures driving away fish and damaging coral reefs.
Livelihoods
"This ecosystem makes up much of our livelihood," he said by telephone while fishing for tarpon in the Everglades. "If it sneezes we all catch a cold, because people come to go diving and snorkeling and to see the reefs."
Obama said conservation and environmental stewardship have been bipartisan issues in the past, citing former President Teddy Roosevelt, who established the national park system, and Richard Nixon, another former Republican president who set up the Environmental Protection Agency.
Taking a dig at the state's governor, Obama said local officials from both parties have been able to work together on climate issues.
"They know that simply refusing to say the words 'climate change' doesn't mean that climate change isn't happening," he said.
Scrutiny for Scott
Scott has faced scrutiny this year after former officials accused his administration of banning them from using the words "climate change."
"The administration didn't want us to use those terms in official business," Chris Byrd, an attorney who worked for the state's Department of Environmental Protection from 2008 to 2013, said in an interview. "It required us to focus on issues other than the gorilla in the room."
Jeri Bustamante, a spokeswoman for Scott, declined to answer questions about the alleged censorship. Scott has previously denied that the ban exists.
Scott, who has pledged to devote $5 billion over 20 years for restoration of the Everglades, accused Obama of failing to provide adequate federal funding for the effort.
"President Obama needs to live up to his commitment on the Everglades," Scott said Tuesday in a statement. "Our environment is too important to neglect and it's time for the federal government to focus on real solutions and live up to their promises."
Coming Storm
Obama made several not-so-subtle references to Scott and other Florida Republicans during his speech.
"If you've got a coming storm, you don't stick your head in the sand," Obama said, standing in front of a grassy expanse under an overcast sky.
Rubio and Bush, who both live in low-lying areas of South Florida, have faced questions on climate change as they've met with voters in early presidential primary states.
Both have questioned humans' influence on global temperatures and said Obama's initiatives to curb carbon emissions would harm the economy.
White House press secretary Josh Earnest said Obama plans to keep raising the issue of climate change as the 2016 elections approach.
"The president is hopeful that this will continue to add some momentum and energy to the ongoing political debate about climate change," he said.
Before it's here, it's on the Bloomberg Terminal.
LEARN MORE