House Investigators to Announce Plans for Hillary Clinton Grilling
The Democratic presidential frontrunner says she'll talk—in public.
by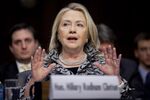 The Republican-led special committee investigating Hillary Clinton's response to the 2012 attack in Benghazi, Libya, plans to announce Thursday how it will proceed in obtaining testimony directly from the former secretary of state turned presidential candidate.
The committee's planned questioning of Clinton will focus on revelations she used a private e-mail server for the messages she sent as secretary of state. That has given Republicans a new avenue to question her handling of the job, adding an element of lack of transparency to the accusations surrounding her.
Also on Bloomberg Politics: Release of Benghazi Report on Hillary Clinton Likely Pushed to Election Season
"A reasonable path forward" is promised by Select Committee on Benghazi Chairman Trey Gowdy, in a statement. He said the panel will seek to have her "discuss both Benghazi as well as congressional efforts to ensure the public record is complete with respect to her tenure as Secretary of State."
Gowdy issued the statement after his committee received a letter from Clinton's lawyer, David Kendall, rejecting its request for Clinton to appear for a private interview, but Kendall reiterated that she is willing to testify in public—as she has previously.
Kendall noted Clinton has testified before committees in both the House and Senate about the events in Benghazi. He added she "has made clear that she will voluntarily testify publicly again before the Select Committee, and at that time, is happy to continue to answer any questions" about her e-mail use.
In the same letter, Kendall disputed the committee's assertions that "many questions and details" remain unanswered about the Clinton's use of private e-mails as secretary of state.
In his statement, Gowdy said he appreciated the response, but that he disagreed with the assertion that Clinton "has answered all questions surrounding the unusual email arrangement she had with herself."
Republicans have been trying for more than two years to prove that Clinton failed to bolster security before the assault and should share blame for the Obama administration's initial, erroneous account of what happened. Ambassador Christopher Stevens and three other Americans were killed in the attack on the U.S. compound in Libya.
Before it's here, it's on the Bloomberg Terminal.
LEARN MORE