Earth Day Pop Quiz: Where the Presidential Hopefuls Stand on Energy and the Environment
The candidates (declared or not) answer five questions on the environment.
by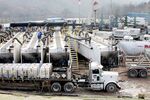 This week, Bloomberg asked candidates who are running or considering a run for president to answer five questions about climate issues. Some responded directly. Some responded selectively. In other cases, Bloomberg reporters were able to research candidates' positions from earlier remarks and votes. Some candidates did not respond and two—Senator Ted Cruz of Texas and Governor John Kasich of Ohio—declined through spokesmen to answer the questions. The questions and positions of those candidates we were able to obtain are below.
Do you accept the science that human activity is contributing to the changing climate?
Hillary Clinton: "At this point, it's hard to believe that anyone doesn't understand that human activity is causing climate change," Adrienne Elrod, spokeswoman for the Clinton campaign, told Bloomberg. "Hillary Clinton has called it one of the greatest threats to our future."
Carly Fiorina: "There is a lot of consensus among scientists that climate change is real, that human activity contributes to it."
Rand Paul: He said last year that he's "not sure anybody exactly knows why" climate change occurs. This year, voted against Hawaii Senator Brian Schatz's amendment to the Keystone XL bill, which insisted that "climate change is real and human activity significantly contributes" to it.
Lindsey Graham: He voted for the Schatz amendment, thus agreeing that "human activity significantly contributes to climate change." He's criticized Democrats for turning climate science "into a religion," but in the context of wanting the GOP to come up with its own realistic policy.
Bobby Jindal: "I'm sure human activity has an effect on our environment – and always has.
Chris Christie: New Jersey's Republican governor said in 2011 that following talks with experts he had come to accept that "climate change is real" and "we are at least part of the problem." But he subsequently announced he would pull New Jersey out of a 10-state cap-and-trade program known as the Regional Greenhouse Gas Initiative on the theory that his state can reduce carbon emissions without what he described as hidden taxes. And when asked if he believed that Hurricane Sandy's devastation to his state was caused by climate change, he assailed his questioner as an emissary of "liberal public radio."
Marco Rubio: "There has never been a moment where the climate is not changing," Rubio said in an interview on CBS' Face the Nation. "If we do the things they want us to do, cap and trave, youname it, how much will that change the pace of climate's change versus how much will it cost to our economy? Scientists can't tell us what impact it would have on reversing these changes. But I can tell you with certainty it would have a devastating impact on our economy."
Do you see the U.S.-China pact to reduce carbon emissions as a step forward in reducing global warming?
Fiorina: "China is not prepared to follow our lead. They will never follow our lead on this issue. The Chinese have foremost in their policy agenda their economic self-interest which requires them to grow their economy at a certain rate. So we need to accept that and understand what it will takeinnovation. We are disabling our economy and making no impact on climate change. We will never have a harmonized regulatory regime, especially with China behaving the way it is."
Graham: He was one of the first Republicans that Secretary of State John Kerry reached out to after the deal was cut, and has done nothing to oppose it, while asking whether it could hurt economic growth. "The administration is going to have their work cut out for them convincing the Congress that going to a low-carbon economy will be good for our economy," he said after the deal. "I think there's a case to be made that a low-carbon economy, implemented over time, is not inconsistent with a robust economy."
Jindal: "No. This is a bad deal for America. It requires America to do everything and China to do nothing for 15 years. This agreement is going to hurt our economy and put American jobs in jeopardy. Once again, the president has put his global ideology ahead of people here at home. America is blessed with an abundance of natural resources – and they've put us on the precipice of an energy and manufacturing revolution. With a still sputtering economy, the president should be taking advantage of this. He should be clearing a lane for job creation in the energy and manufacturing sector, not putting up roadblocks."
Rubio: Senator Rubio believes this will hurt the U.S. economically, while allowing China to continue to emit, his campaign said in an e-mail.

Do you support the proposed EPA plan to reduce carbon emissions from power plants?
Clinton: Campaign spokeswoman Elrod said that Clinton is "committed to enforcing limits on power plants spewing carbon pollution into the air."
Fiorina: "I do not support regulations at the federal level because the science tells us that no country acting alone make a difference. This will take a decades-long, global effort costing trillions of dollars. The only way out is to innovate. When we over-regulate, we're crushing people's opportunities."
Paul: Vehemently opposes the plan, in line with the politics of his coal-producing state. "The excessive rule is an illegal use of executive power," he said last year, "and I will force a vote to repeal it." He said on Bill Maher's HBO show "the environment has been cleaned up dramatically through regulations on emissions as well as clean water over the last 40 or 50 years," but the senator has not specified what regulations are acceptable.
Graham: Also opposes the plan, and pledges to "take it down," as it's "going to drive up the power costs and hurt our economy." He contrasts it with the cap-and-trade legislation he pushed in 2011, which, he argues, would not have been so painful.
Rick Perry:  "Governor Perry … opposes the proposed EPA regulations affecting power plants, which would increase the cost of energy for Americans," said Travis Considine, a spokesman for the former Texas chief executive, in an e-mail.
Jindal: "No. The President's Clean Power Plan undermines the role of states in the federal Clean Air Act in an effort to realize a radical, liberal agenda that will lead to increased energy costs."
Rubio: "This is yet another harmful measure being taken—for the purposes of setting an example, is what they're saying—'We need to go on the global stage. We have this big conference in 2015. We want the U.S. to be able to lead by example on all these climate change measures,'" the senator said in a radio interview the day the proposals were announced. "What they don't understand, or seem to want to ignore is that the largest contributors of carbon to the atmosphere today are developing countries like China and India. This notion that, 'Somehow, if we destroy our economy by raising utility prices for Americans, they're going to follow our example,' is silly."
Do you support the Keystone XL pipeline?
Clinton: The Democratic hopeful has studiously avoided taking a position on the issue, which splits two of her party's key constituencies: environmentalists and labor. Her campaign ignored this question on Bloomberg's list.
Fiorina: "Yes. The American people widely support the Keystone XL pipeline and what we're doing today is actually worse for greenhouse gas emissions than what the pipeline would be."
Rick Perry: "Governor Perry believes the most profound way to boost the country's economy and enhance our national security is to aggressively market American energy around the globe and approve the Keystone XL pipeline," wrote Considine.
Paul:  Yes. "The Keystone pipeline would instantly create thousands of jobs without costing the taxpayers a dime," he said in 2013.
Graham:  Yes. "I was one of the first members of the United States Senate to visit the Canadian oil sands to see first-hand how this resource could benefit our country," he boasted in January.
Jindal:  "Yes. Approving this project should be a no-brainer. It's safe and it will create good-paying construction jobs. Government should get out of the way of job creation. The opposition to Keystone is not based on science or reason and it's holding our country back."
Scott Walker: "Governor Walker believes that a balance must be struck in our efforts to protect the environment and protect our economy. The Obama administration has continually pandered to far left environmentalists at the expense of American workers, job creators, and the economy. From rejecting the job-creating Keystone XL pipeline to pushing backdoor energy taxes, the president's radical environmental policies have been disastrous for America," wrote AshLee Strong, a spokeswoman for Walker's political committee, Our American Revival.
Christie: In a speech to energy executives at the Vancouver Petroleum Club, Christie said the delay in approving Keystone XL is "no way to treat a friend" and predicted the pipeline will create jobs and grow the economy on both sides of the border.
Rubio:  "President Obama's decision not to move forward on the Keystone pipeline is a mistake," the Florida senator wrote in a January, 2012 blog post. "This decision offers even more appalling evidence that this administration is hopelessly rudder-less in its jobs and energy policies. By not acting on Keystone, the President is depriving America of a means to create jobs, take a step towards energy independence, and bolster our national security by tapping into our energy resources and those of our friends in Canada instead of tyrannical governments."
Do you support government incentives, such as tax breaks or credits, to support alternative forms of energy production? If so, which?
Clinton: The former New York senator and secretary of state has "pushed for investments in alternative energy that will limit pollution and create the jobs of tomorrow," her campaign spokeswoman said.
Fiorina: "Innovation is the key to answering climate change. However, I think that our tax code needs to be simplified, so that would not include tax breaks or credits."
Jindal: "I think wind energy, along with other renewables, need to get to a place where they can stand on their own alongside other forms of energy. What we really need to do is lower the tax rate for everyone, so we have a completely level playing field and a more conducive environment for new energy technologies to get off the ground and thrive. Emerging energy technologies can increasingly compete with conventional sources without subsidies. Instead of utilizing explicit taxpayer subsidies and credits for specific sectors and industries, federal policy should instead work to expand innovative, sound financing options for all forms of energy."
Walker: "Under Governor Walker, the state of Wisconsin joined a federal lawsuit challenging new limits on carbon emissions from power plants," Strong wrote.
Christie: In response to Bloomberg's questions, the New Jersey governor's political action committee, Leadership Matters for America, pointed out that New Jersey has 14,529 solar energy project installed statewide. In July 2012, Christie signed legislation to strengthen and grow the solar industry.
Rubio: Senator Rubio supports innovation as an alternative, his campaign wrote in an e-mail, noting that Rubio sponsored legislation last year designed to bolster cooperation between government research labs and the private sector. 
Before it's here, it's on the Bloomberg Terminal.
LEARN MORE