A Sharp-Elbowed 'Force' Will Watch Over Hillary Clinton's Campaign Finances
From Wall Street to the Commodity Futures Trading Commission, Gary Gensler hasn't been afraid to mix it up—or to say no to the rich and powerful.
by and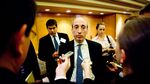 On one of his last nights as chairman of the Commodity Futures Trading Commission, Gary Gensler thanked Elizabeth Warren. There were others on the list he ticked through at the affair packed with congressional aides, government officials and even a few lobbyists, but Warren, the Massachusetts senator and star of the left, was one of the first–a recognition for Warren's role in helping Gensler transform the CFTC from a regulatory backwater into a tough Wall Street cop. "Five years ago, when the president was formulating his financial reform proposals, he placed tremendous confidence in this small agency," Gensler, who led off his remarks quoting President John F. Kennedy, told the crowd. "This confidence in the CFTC was well placed."
It was a notable bookend to Gensler's transformation from senior Wall Street executive to one of its chief antagonists. It's a transformation his new boss, Democratic presidential candidate Hillary Clinton, appears inclined to embrace herself. Clinton cares what Warren thinks. It's why the two met privately to talk policy, and it's as good a reason as any for why Clinton penned a glowing piece on Warren for Time's "100 Most Influential People." And Clinton's hiring of Gensler as her campaign's chief financial officer was seen as another savvy, yet somewhat transparent, message to the left that she hears the concerns that she is too close to Wall Street. "This is sending a signal," says former Representative Barney Frank of Massachusetts, himself a veteran of battles over Wall Street regulation during his time in Congress. 
Yet to label the hire as a symbolic move meant solely to calm skittish liberals would be a stark misreading of the way Gensler actually operates, cuts deals, and amasses power, according to lawmakers like Frank, lobbyists and staffers who have worked with or against him over the years. It also undersells the need for campaigns–now billion-dollar entities–to employ someone who, ambitious and turf-conscious or not, will keep a close eye on every dollar and who knows how to say no. "Campaigns are inherently messy," Frank says. "That's why this was a good hire."
Many expected Gensler to work in some capacity for the Democratic front-runner. He had worked in the Treasury Department during her husband's administration and was an economic policy adviser on her 2008 campaign. When then-Senator Barack Obama won the 2008 primary, Gensler shifted his policy advice, and his cash, to Obama's side, eventually positioning himself for an appointment as the financial world melted down around the new administration. Long an active Democratic donor, it was clear when he left government in the first week of of 2014 that he would be looking for a way to come back in the next Democratic administration. Gensler's new role, which hasn't been officially announced by the campaign, locks him in as a senior official inside Clinton's team. 
A Clinton campaign spokesman declined to comment on the hire. Gensler has not returned phone and e-mail messages about the position.
Raised in Baltimore as the son of a cigarette- and pinball-machine vendor, Gensler obtained an MBA from the University of Pennsylvania's Wharton School and worked his way into becoming one of the youngest partners in Goldman Sachs's history. Former colleagues are quick to describe someone who was politically savvy even then, as he positioned himself in one of Wall Street's premier investment banks. He quit at 39, with investments he has reported to be worth more than $15 million in his federal disclosures and joined Treasury. He rose to undersecretary of domestic finance and aligned himself with Robert Rubin, the top Clinton economic official and Treasury secretary who has become Public Enemy No. 1 on the left for his role in pushing to loosen Wall Street regulation. In the years Democrats were out of power in Washington, Gensler moved to Capitol Hill, where he served as a senior adviser to Senate Banking Committee Chairman Paul Sarbanes. It was also a time where much of his focus was on another role: being a dad. Gensler has raised his three daughters as a single parent since his wife died of cancer in 2006.  
After Obama's election, he was appointed to the CFTC, where his views on regulation appeared, at least to Wall Street executives familiar with his work at Goldman Sachs and the Treasury Department, to take a 180 degree turn. He pushed, prodded, and flat-out told lawmakers and staff to give his agency more authority to oversee the $700 trillion derivatives market–a previously opaque area of the financial marketplace blamed for accelerating the 2008 financial crisis."He was unquestionably the most activist chairman of any of the regulatory agencies," said former Republican Senator Judd Gregg of New Hampshire, who interacted with Gensler both while Gregg was in the Senate and later in the job he once held as the chief executive of Wall Street's top lobbying group. "He had a very clear agenda."
Also on Bloomberg Politics: The Definitive Hillary Clinton Scouting Report, by Mark Halperin and John Heilemann
Indeed, in the final 20-hour marathon congressional session in 2010 on what would become the Dodd-Frank Act, Gensler sat directly behind Senator Blanche Lincoln, the Arkansas Democrat leading the negotiations over the derivatives section of the bill, whispering regularly into her ear which changes to accept and which to block. No lawmakers or staffers at the time could remember an agency chief doing something remotely similar.
In the months before the financial-reform law was finished, Gensler accepted an invitation to lunch at New York's Waldorf Astoria hotel with executives from Goldman Sachs, Credit Suisse Group AG, Deutsche Bank AG, Bank of New York Mellon Corp., and others. He rebuffed their concerns, saying his duty now was to taxpayers, according to people who attended. Asked to name the main obstacle to an improved system, he pointed directly at his hosts and replied simply: "You."
These were the types of actions that would come to define the years ahead in battles with Wall Street, other federal regulators, international counterparts and even those within the Obama administration. Gensler would do what it took to get what he wanted–possibly at the sacrifice of future jobs for himself within the administration. As Gensler's term atop the CFTC was coming to a close, there was an impression inside the White House that he was angling for a higher profile job, according to administration officials. At one point, there was talk Gensler might stay for another term at the CFTC. In the end, Obama never nominated him again. 
In 2014, Gensler, left the CFTC after nearly five years. In the months since Gensler's farewell event at the agency, the question of what he would end up doing was a popular discussion topic among the lobbyists and executives he battled. Most settled on the same thing: he would definitely raise cash for Clinton. What better way for someone with time, money and a desire to get back into government at a higher level? Turns out they were close. 
A campaign CFO is not exactly a high-profile position. Quick: name Mitt Romney's campaign CFO. Or even Obama's. Exactly. But in an age of multibillion-dollar campaign operations, it's an exceedingly important one, especially for a Clinton team racked by mismanagement during her last run.
Gensler isn't described by people with knowledge of the operation as particularly close to the Clintons, but that is viewed as a potential positive for the role. His turf-conscious willingness to be the bad guy is viewed even by skeptical donors as a good thing, as is his experience working at the CFTC, an agency that for years faced strained budgets and limited staff, a scenario not unlike one faced by most campaigns. 
His new portfolio involves financial management, but those who have worked with him doubt that he'll be too far from the policy arena, particularly given Clinton's recent comments questioning the efficacy of certain types of Wall Street trading. Gregg, the former Republican senator critical of Gensler's policy work, nevertheless was exceedingly complimentary of his effectiveness as an operator: "He's a force. It's that simple." A force many in Clinton's orbit view as angling for a bigger job. 
That's not to say the symbolism behind his hire is lost on Democrats leery of Clinton's corporate ties, nearly all of whom applauded the news. And while Gensler's Wall Street antagonism isn't appreciated by some donors, interviews with more than a half-dozen tied to the financial community didn't uncover any type of mass revolt or decisions to cut fundraising, though there was no shortage of grumbling about his past work. Even in that, some see a potential positive. "The campaign ought to record it and put it in their campaign ads," Frank says of Wall Street-aligned Democrats complaining. "What could be better for Hillary than for that to be the conversation?" 
—With assistance from Robert Schmidt in Washington.
Before it's here, it's on the Bloomberg Terminal.
LEARN MORE