Whoa, If True: Jeb Bush, Bilderberg, and the Secret Rulers of the World
The likely Republican candidate's campaign debunks Alex Jones.
by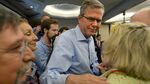 This is the latest installment of "Whoa, If True," an occasional look at the conspiracy theories that migrate from the wilds of the Internet to the well-covered tundra of presidential campaigns.
Of all the secret organizations that allegedly rule the world, the Bilderberg Group is the worst at hiding. Founded 61 years ago as an exclusive conference for European and American elites—a Davos without press passes—the Group insisted that its secrecy allowed world leaders and economists to speak plainly. Doubters asked whether the secrecy really was meant to turn eyes away as the New World Order's dictates were hammered out. Just a decade into the Group's life, right-wingers from the John Birch Society to the Eagle Forum were speculating that the Republican Party's moderates were being directed by the Bilderbergers. (The secret rulers of the world best at hiding are the Reptilians.)
Today, the ever-spurting founts of Bilderberger panic are the radio show and web sites hosted by Alex Jones. The Texas-based host has brought his show and camera crew to Bilderberg sites whenever possible, going so far as to denounce them through a bullhorn.
"We know you are ruthless," Jones told Bilderbergers in 2008. "We know you are evil. We respect your dark power."
On Monday, a writer for Jones's InfoWars web site noted that former Florida Governor Jeb Bush would be traveling to Europe in "early June." It so happened that the 2015 Bilderberg Group meeting would occur from June 11-14 in Austria. Just as Barack Obama "infamously disappeared to a secret location with Hillary Clinton in June 2008 in Northern Virginia, at precisely the same time and location the Bilderberg Group were convening in Chantilly," it was possible—possible!—that Bush was going to the Interalpen Hotel to be ordained as the next president.
On Twitter, Jones asked the inevitable question.
I retweeted that. To my surprise, Jeb Bush's spokesman Tim Miller quickly saw the tweet and answered it.
I followed up with Miller, asking whether Jeb Bush had ever attended a Bilderberg meeting. He sent back this message, verbatim.
Many questions remain, but Jones's own question has been answered. Jeb Bush will not attend the 2015 Bilderberg Group meeting. The idea of presidential candidates being anointed by secretive elites remains completely deranged and fictional.
Before it's here, it's on the Bloomberg Terminal.
LEARN MORE