White House Said to Oppose Trade Rules Sought by Democrats
Justin Sink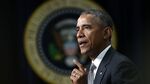 U.S. President Barack Obama will oppose an effort by prominent Senate Democrats to amend a proposed fast-track trade bill with provisions punishing countries for manipulating their exchange rates.
The rules could imperil the administration's ability to create jobs and protect the economy, according to a White House official who spoke on condition of anonymity.
Charles Schumer, in line to become the Senate's Democratic leader in 2017, and Democratic Senator Sherrod Brown, have said they want to add enforceable currency manipulation rules. Supporters of the change, particularly those in the auto and steel industries, argue currency manipulation has led to job losses in American manufacturing.
The proposed rules, which could link currency manipulation to higher tariffs on imports, may provoke opposition from other countries the administration is courting as part of the Trans-Pacific Partnership free-trade talks. Obama has made the trade deal a top priority for his second term, and is pressing Congress to approve fast-track trade legislation to help him secure the TPP.
The official said the White House also opposes amendments to address currency manipulation using trade remedies, which allow the U.S. to impose duties against producers selling below market prices or receiving illegal subsidies. The remedies would be difficult to administer and raise questions of consistency with existing international obligations, according to the administration.
Tougher Sell
"We have worked hard to promote a level global playing field for American workers and firms, and have all countries play fairly," White House press secretary Josh Earnest said Monday. "We've made progress and will continue to press for more."
The decision to explicitly oppose tougher currency provisions probably will make the trade legislation -- unveiled last week by Senate Finance Committee Chairman Orrin Hatch of Utah, a Republican, and Democrat Ron Wyden of Oregon -- a tougher sell to members of the president's party.
Six top Democrats, including Schumer of New York and Brown of Ohio, issued a joint statement last week saying they wanted a bill that contained "strong provisions to protect American workers against illegal trade practices like currency manipulation."
The White House has cast the fast-track trade bill as crucial to its efforts to strike trade deals with Europe and almost a dozen Pacific nations. The legislation would prevent Congress from amending any trade agreements, assuring negotiating partners that U.S. lawmakers could only take an up-or-down vote on the deal.
Planned Interview
The president will look to publicly sell the trade legislation to skeptical Democrats during an interview with MSNBC host Chris Matthews on Tuesday.
On Monday, Earnest argued that the bipartisan proposal was the "most progressive" trade promotion authority bill in history.
"The reason that it is so progressive is because it includes enforceable labor provisions, it includes enforceable environmental provisions, and it includes some provisions that are related to human rights," Earnest said.
The bill is S. 995.
Before it's here, it's on the Bloomberg Terminal.
LEARN MORE