Senate Leaders Reach Deal to Allow Loretta Lynch Confirmation Vote
Kathleen Hunter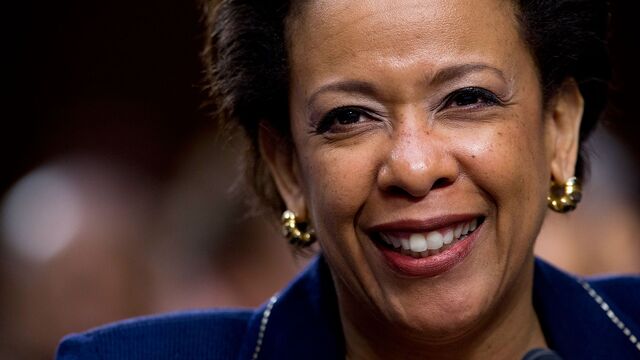 The Senate plans to vote in the next day or two on confirming Loretta Lynch as the first black woman to serve as U.S. attorney general.
Senate Majority Leader Mitch McConnell and Minority Leader Harry Reid said Tuesday they had reached a compromise on an unrelated human-trafficking bill that Republicans have insisted on completing before the chamber will vote on Lynch's confirmation.
"As soon as we finish the trafficking bill, as I've indicated for some time now, we'll move to the president's nominee for attorney general -- hopefully in the next day or so," McConnell, a Kentucky Republican, said on the Senate floor Tuesday.
Democrats had objected to anti-abortion language in the measure intended to combat human trafficking, and that dispute has held up the Lynch confirmation for weeks. She was nominated Nov. 8 by President Barack Obama.
Lynch, 55, is supported by 51 senators, including all 46 Democrats and five Republicans -- enough to win confirmation. The top federal prosecutor in Brooklyn, New York, she would replace Attorney General Eric Holder, who is remaining on the job until his successor is confirmed.
The agreement would divide funding in a way intended to meet Democrats' insistence that only public money is subjected to a longstanding federal ban on taxpayer funding for most abortions. Instead it would separate funding to provide aid to human-trafficking survivors from fines collected from traffickers, and not subject to the abortion restriction.
'Shrinking Violets'
Reid, a Nevada Democrat, warned Republicans to "be very careful that you don't destroy" the agreement. He said Democrats wouldn't be "shrinking violets" if Republicans tried to reopen the issue.
"Let's get rid of this quickly," Reid said. "Let's get Loretta Lynch confirmed quickly and move on to other matters."
Democratic Senator Amy Klobuchar of Minnesota said final language needs to be worked out and that the measure could be passed in the next day or day and a half.
Obama said on April 17 that the delay in a Senate confirmation vote for Lynch was embarrassing and accused lawmakers of "political gamesmanship."
Many of the Senate's 54 Republicans have questioned Lynch's independence and criticized her support of the president's immigration policy.
Undocumented Immigrants
In November, Obama deferred deportation for three years for about 5 million undocumented immigrants -- those who came to the U.S. as children, and parents of children who are citizens or legal permanent residents. Republicans including Alabama Senator Jeff Sessions consider the policy to be unlawful "amnesty."
Lynch, at her Jan. 28 confirmation hearing, said that focusing immigration enforcement and deportation on dangerous and violent criminals was "a reasonable way to marshal limited resources to deal with the problem."
Holder has frequently clashed with Republican lawmakers over issues including a law enforcement operation to crack down on gun-smuggling at the U.S.-Mexico border as well as federal challenges to states' voter-identification laws.
Before it's here, it's on the Bloomberg Terminal.
LEARN MORE