Reported Jeb Bush Super-PAC Plans Draw Watchdog Skepticism
Campaign-finance experts say the Republican is initiating an experiment in just how large a role super-PACs can play.
by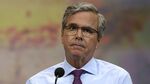 A report that Jeb Bush will delegate much of his yet-to-be-declared presidential campaign's work to a super-political action committee is prompting sharp criticism from campaign-finance advocates and the threat of legal action. 
According to the Associated Press, the former Florida governor has spent months developing a plan to give Right to Rise, a super-PAC formed on his behalf, authority to run activities such as advertising, phone banking, and data analysis for his campaign. Such groups can raise unlimited money to participate in campaigns but legally are not supposed to coordinate with a candidate's operations.
Campaign-finance watchers say Bush is initiating an experiment in just how large a role super-PACs can play. Bush is among several Republicans interested in running for president who are increasingly relying on undisclosed donations to finance traditional functions of a campaign, as did Barack Obama in 2008.
"That's something that Jeb Bush is really pioneering," said Bill Allison, a senior fellow at the Sunlight Foundation, which advocates transparency in politics. While super-PACs have played major roles in campaigns before, supporting candidates who have fallen out of favor with voters, they have never served as the overt drivers of a candidate's campaign operations, Allison said. "What we haven't seen before is a candidate who sets out and is just doing nothing but doing non-stop fundraising for the outside group before announcing."
Once Bush makes his candidacy official, however, he'll have to cut his personal ties to and control over the super-PAC, which will likely be led by longtime confidant Mike Murphy. Unlike a traditional presidential campaign committee, which can take a maximum of $5,400 from an individual donor for the 2016 campaign, Right to Rise would be able to raise unlimited amounts of money from a small number of donors. That potentially could give Bush the funds to continue an aggressive campaign even if his momentum falters during the primary and caucus process.
The campaign and super-PAC are still working out which group will take on which duties, according to anonymous Republicans and Bush donors who spoke to AP, but the result could be a PAC that spends more than the campaign committee. Bush's team would neither confirm nor deny the report.
"Any speculation on how a potential campaign would be structured, if [Bush] were to move forward, is premature at this time," said Bush spokeswoman Kristy Campbell.
Critics of super-PACs, which arose after the Supreme Court struck down a major part of the nation's campaign-finance regulatory regime in 2010, have said the huge sums of money can corrupt candidates. But the Supreme Court insisted the money is not corrupting if it doesn't flow directly to candidates. 
Bush's reported plan could push the legal envelope closer to the "direct coordination" line that, up until now, courts and the Federal Election Commission have refused to breach. That could give rise to legal challenges. The Campaign Legal Center is "very likely" to file a complaint against Bush with the Federal Election Commission if he proceeds, said Paul S. Ryan, the group's senior counsel.
Campaign-finance experts however, see intervention by the Federal Election Commission as unlikely absent direct evidence that Bush was coordinating with the super-PAC after entering the race.
Even so, such overt reliance on big money donors could open Bush to criticism from presidential rivals, some of whom are calling for the campaign-finance system to be overhauled, including Democrat Hillary Clinton and Republican Lindsey Graham.
Without mentioning Bush, Clinton returned to the theme of campaign finance on the campaign trail in New Hampshire Tuesday, saying that ridding politics of "unaccountable money" has become "really difficult" because of the Supreme Court.
"We need to get back to one person, one vote," Clinton said.
There's also a strategic downside to relying on a super-PAC, Allison noted.
"The peril of outside groups always is if he's attacked and all of the money is in the outside groups and he can't answer the attack personally," the Sunlight Foundation fellow said, noting that then-Democratic nominee John Kerry was slow to respond to attacks on his Vietnam service record in 2004 when his campaign was low on funds and he had to rely on outside groups such as MoveOn.org.
But if the structure does propel Bush to the nomination and the White House, Allison imagines we'll see more of it in the future. "Politicians love to mimic things that are successful," he said.
CORRECTION: An earlier version of this story incorrectly stated that the Campaign Legal Center is likely to take Bush to federal court. We regret the error.  
Before it's here, it's on the Bloomberg Terminal.
LEARN MORE