New Jersey Teachers Union Ends Pension Talks With Christie
Terrence Dopp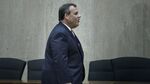 New Jersey's largest teachers union said Tuesday it has ended talks about overhauling the state's beleaguered pension with Governor Chris Christie, who had touted the discussions as a model of cooperation.
Wendell Steinhauer, president of the 195,000-member New Jersey Education Association, said his union is no longer communicating with the Pension and Benefits Study Commission that Christie created last year.
In his February budget address, Christie spoke of the talks as essential to repair a system he said is broken and crowding out other spending. While the second-term Republican's budget for the fiscal year that begins July 1 calls for a record $1.3 billion pension payment, it's less than half what he had pledged.
"If we had it to do over again, we would never have signed the memo describing concepts we discussed with the Commission," Steinhauer said in a statement. "It was misrepresented by the governor, and that distracted everyone from the real priority: requiring the state to fund the pensions for which our members have paid their share."
In February, state Superior Court Judge Mary Jacobson sided with unions that had sued Christie for paying $1.6 billion less than the $2.25 billion due to the retirement fund this year. Christie is appealing.
"It is unfortunate that the NJEA is unwilling to continue to work with the independent, non-partisan commission," Kevin Roberts, a spokesman for Christie, said in an e-mail. "This unwillingness does not change the numbers. We will continue to work to solve this crisis."
Before it's here, it's on the Bloomberg Terminal.
LEARN MORE