Natural-Gas Suppliers Must Face Suit, U.S. High Court Rules
Greg Stohr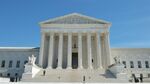 The U.S. Supreme Court said natural-gas suppliers, including Duke Energy Corp. and CMS Energy Corp., must defend against lawsuits claiming they manipulated prices during the 2000-02 California energy crisis.
The 7-2 ruling keeps alive suits that seek billions of dollars. The majority said federal energy law leaves room for state-law antitrust claims filed by natural-gas buyers.
The ruling may have limited applicability beyond the case that was before the justices. Congress changed the law in 2005 to give the Federal Energy Regulatory Commission a greater role in policing the manipulation of natural-gas prices at the retail level.
Natural-gas customers, including Learjet Inc. and Sinclair Oil Corp., say the suppliers reported false data to trade publications whose price indexes were the basis for many retail sales contracts. The customers also claim the companies made sales directly offsetting each other to create a false price for the indexes.
During the power crisis, prices rose ten-fold, customers endured rolling blackouts, and California's two largest utilities became insolvent.
At the Supreme Court, the issue was whether the U.S. Natural Gas Act bars the state-law antitrust suits. The Supreme Court ruled in 1988 that the federal government has exclusive authority over the wholesale natural-gas market.
Retail Prices
The customers contended their lawsuits focus on the manipulation of retail prices, a subject traditionally policed by state regulators. The suppliers argued that, because index manipulation would affect the wholesale rates, the practice is in the exclusive realm of the federal government.
Writing for the court, Justice Stephen Breyer said the lawsuits "are directed at practices affecting retail rates, which are firmly on the states' side of that dividing line."
Breyer pointed to a 1947 Supreme Court decision that said the Natural Gas Act "was drawn with meticulous regard for the continued exercise of state power." Breyer said the lawsuits relied on well-established state antitrust authority.
Breyer left open the possibility that the suppliers could win dismissal of the suits by arguing that the antitrust suits would interfere with the federal rate-setting process. That issue, known as conflict pre-emption, wasn't before the Supreme Court. The decision upholds a lower court ruling.
Chief Justice John Roberts and Justice Antonin Scalia dissented. Writing for the pair, Scalia said the court had previously drawn a "firm line" dividing state and federal authority over natural gas.
"If the federal government may regulate a subject, the states may not," Scalia wrote. "Today the court smudges this line."
The case is Oneok Inc. v. Learjet Inc., 13-271.
Before it's here, it's on the Bloomberg Terminal.
LEARN MORE