John McCain's Fake Fight With Ted Cruz Over Guns on Military Bases
The salvo that turned out to be a misfire.
by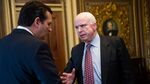 On Sunday afternoon, Texas Senator Ted Cruz told gun rights advocates that he was fighting to prevent another Fort Hood massacre by defending the Second Amendment on military bases.
"One of the things I've publicly called for on the Armed Services committee is for us to have hearings on why the military has a policy of not allowing soldiers to carry their firearms onto bases," Cruz told a questioner at the Londonderry Fish and Game Club in New Hampshire. "I am very concerned about that policy. Now, I want to give an opportunity for military leadership to lay out their views as well, because they have opposed changing that policy, and I think the proper way forward is to have hearings. It's one of the things I'm pressing. I hope the new chairman, John McCain, will agree to have those hearings." (My emphasis.)
This was not the first time Cruz had advocated for this–as he said, he had been advocating publicly for such a hearing since 2014. Yet in a Politico report, the story became that "Cruz said Sunday that he's 'pressing' Senate Armed Services Committee Chairman John McCain to hold hearings." The subtle difference in phrasing, the removal of Cruz's caveat that he wanted the "new chairman" to listen to him, kicked off the nth round of a McCain-Cruz spat that dates back to the first weeks of Cruz's Senate term. Politico followed up the Cruz story with a reaction from McCain, arguably the most quotable member of the Senate.
"I haven't heard a thing about it from him," said the Arizonan. "Nor has my staff heard from his staff. It came as a complete surprise to me that he had been pressing me. Maybe it was some medium that I'm not familiar with."
Cue the narrative. "John McCain Just Can't Stop Laughing At Ted Cruz," reported the Huffington Post. "McCain Mocks Cruz Over Guns on Bases Claim," reported the Hill. In a Tuesday morning Fox News appearance, Cruz basically conceded to the storyline.
"I may have misspoken in New Hampshire when I said that I'd been pressing John McCain when what I had been pressing is the Armed Services Committee," Cruz said. "John McCain is the new chairman of it. So I sent a letter to the previous chairman, but I had not communicated that to John directly."
According to my own tape of the quote, Cruz didn't really misspeak. Pressing for a hearing in 2014 meant asking the Democrats to do it; asking for one now meant having a conversation with John McCain. Yet he said all this after his frequent riff on how he, Mike Lee, and Rand Paul fought against post-Newtown gun safety bills when few other Republicans would, leaving the impression that establishment senators were the real impediment to gun rights. His fundamental mistake might have been in floating the idea in New Hampshire before he'd vetted it with the staff of a senator who cannot resist taking a slap at him–and then, belatedly, offering a bandage and a peace pipe.
The spat got the coverage, though the news was right at the bottom of Politico's follow-up. "I'll be glad to discuss the issue and see if we need hearings," said McCain.
Before it's here, it's on the Bloomberg Terminal.
LEARN MORE