Inside the Clinton Campaign's Push to Build a War Chest
The candidate's staff briefed approximately 150 potential donors at the Washington home of Ann and Vernon Jordan on Tuesday.
by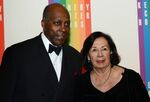 Hillary Clinton's campaign team hit Washington, DC, Tuesday, making a pitch to prospective donors that now is the time to start giving money to help Clinton become the next president. 
The gathering of approximately 150 prospective donors was held at the home of Vernon and Ann Jordan, longtime personal friends and confidants of the Clintons. Led by campaign chairman John Podesta, campaign manager Robby Mook, political director Amanda Renteria, states director Marlon Marshall, and national finance director Dennis Cheng, the guests were encouraged to start writing checks. 
"That early money will fund a robust Primary campaign that will fight for every vote and every delegate to secure the Democratic nomination," invitee Lane Hudson wrote in a Facebook account of what the staffers relayed to the guests. 
Other highlights from the meeting, which was held at the Jordans' home as a way to avoid racking up unnecessary expenses, included the disclosure that the campaign was already fully staffed in the early caucus and primary states of Iowa, New Hampshire, South Carolina and Nevada.
"Robby Mook showed great candor and a command of the task before us," Hudson wrote. "He is running a no frills campaign, claiming he wouldn't even be reimbursed for the cab he took to the meeting."
Those at the gathering were encouraged to donate the maximum $2,700 to the campaign, and to convince 10 friends to do the same. Those who bring in $27,000, will be invited to attend a May finance summit which Clinton will also attend, CNN reported. 
Earlier in the day Podesta and Renteria briefed Senate Democrats on the campaign's progress during a closed-door lunch meeting. "We want to stay in touch and be available as we begin to develop an organization in every state in the country," Podesta told the lawmakers. 
Clinton was scheduled to give Ann Jordan an award on Wednesday night at the gala for the non-profit Sasha Bruce Youthwork for her work with the charity that helps runaways and homeless youth. 
For Hudson, a staunch Clinton supporter, the event at the Jordan's home struck just the right tone. 
"I can be super critical of campaigns, but they are doing an excellent job rolling out this on," Hudson wrote.  
 —David Weigel contributed to this story. 
Before it's here, it's on the Bloomberg Terminal.
LEARN MORE