The Reason Hillary Clinton Will Accept Campaign Donations from Lobbyists
Campaign chair John Podesta says Clinton will not follow Barack Obama's self-imposed fundraising restrictions.
by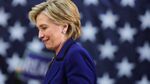 Times have changed. 
Hillary Clinton is distancing herself from Barack Obama's policies in one notable way: unlike Obama, she will accept campaign donations from lobbyists. 
In an interview Monday on PBS' Charlie Rose show, John Podesta, Clinton's campaign chairman, explained why the presidential candidate is taking a different course from the man she hopes to succeed in the White House.
"I think—if you've noticed how much money is coming at us, the Koch brothers pledging almost $900 million to be spent in this election, Ted Cruz raising $30 million for a super-PAC in two weeks.  I think that our judgment was we will take money if it's legal, obviously," Podesta said. 
While Clinton plans to fight fire with fire, Podesta argued that, ultimately, she would be a better champion of ridding politics of the corrupting influence of money than her GOP challengers. 
"What she's out there doing is saying that we need to clean up financial—the campaign finance.  Just listen to the voices of everyday Americans to, you know, move forward, and if it takes a constitutional amendment, so be it.  I think the first thing that she'll do, quite frankly—and that this will set her apart from her Republican opponents—is that she'll appoint Supreme Court justices who protect the right of every American to vote, not every corporation to buy an election."
Also on Bloomberg Politics: The Definitive Hillary Clinton Scouting Report, by Mark Halperin and John Heilemann
When he was running for his first term, Obama pledged that he would not accept campaign donations from lobbyists or PACs. 
"I've sent a strong signal in this campaign by refusing the contributions of registered federal lobbyists and PACs and today," Obama said during a 2008 campaign stop in Virginia, the New York Times reported. "I'm announcing that going forward, the Democratic National Committee will uphold the same standard and won't take another dime from Washington lobbyists or special interest PACs. They do not fund my campaign. They will not fund our party."
Obama's unprecedented small-donor fundraising network obviated the need for lobbyist donations, and nearly doubled during his reelection campaign, with nearly half of his donors in 2011 giving $200 or less, according to an analysis by the Campaign Finance Institute. In the 2008 head-to-head contest with Clinton, the Obama campaign criticized Clinton for accepting donations from lobbyists. 
While Clinton is working to cultivate those small-dollar amount donors this time around, she's also not shying away from the big checks, either. 
"So, we're going to raise the resources that are necessary," Podesta said. "And we're doing—what we're concentrating on is rating—raising what now seem like small-dollar donations, primary donations that can be from, you know, $1, up to $2,700.  We're trying to do that online, by going to hillaryclinton.com.  We're doing it by asking people to raise money from their friends and neighbors.  But we're not going to cut off resources from people who have participated in the political system and have a right to do it." 
Before it's here, it's on the Bloomberg Terminal.
LEARN MORE