Review Ordered for Republican-Drawn North Carolina Voting Maps
Greg Stohr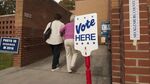 The U.S. Supreme Court revived a challenge to state and federal voting maps drawn by North Carolina Republicans, telling a lower court to reconsider whether race played too big a role in setting the lines.
The order raises new questions about maps that helped Republicans take 10 of the state's 13 U.S. congressional seats in November, up from six four years earlier. Republicans drew the new lines after winning control of the state legislature in 2010 for the first time in more than a century.
In ordering a fresh look by the North Carolina Supreme Court, the justices pointed to their March 25 ruling reinstating a similar lawsuit over an Alabama legislative map. That ruling said map-drawers couldn't take a "mechanically numerical" approach toward the racial composition of districts.
Two voter lawsuits, including one pressed by the North Carolina chapter of the NAACP, contend that some districts rely so heavily on race that they are unconstitutional. The suing voters say the North Carolina General Assembly improperly packed black voters into a handful of districts, reducing their clout elsewhere.
In upholding the maps, the North Carolina Supreme Court said lawmakers were trying to comply with the Voting Rights Act, which the state court said requires the creation of majority-black districts where possible.
The case is Dickson v. Rucho, 14-839.
Before it's here, it's on the Bloomberg Terminal.
LEARN MORE