John Kasich Forms Political Committee as He Mulls White House Bid
Mark Niquette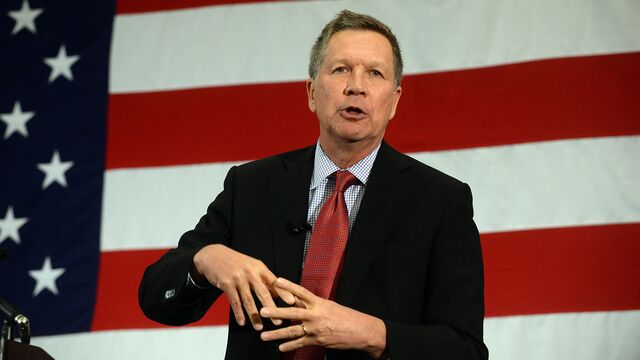 Ohio Governor John Kasich started a tax-exempt political organization and website to raise money for travel and other activities as he considers whether to seek the Republican nomination for president.
Kasich filed paperwork Monday for a so-called 527 organization, New Day For America, that can raise and spend unlimited sums. The officers of the political group include former U.S. Senator John Sununu of New Hampshire, which holds the first presidential primary, according to a filing with the Internal Revenue Service.
The governor, 62, also is starting a new website to solicit contributions and promote his record. Kasich, a two-term governor and former congressman, investment banker and Fox television host, said Sunday on NBC's "Meet the Press" that he's "more and more serious" about running. He hasn't given a timetable for deciding.
"I'm trying to determine is, if this is what the Lord wants," Kasich said on the program. "And I'm not going to figure that out laying in bed and hoping lightning strikes."
Kasich, a former House of Representatives Budget Committee chairman, has been traveling on behalf of a U.S. constitutional amendment requiring a balanced budget and visiting early primary states touting "Ohio's comeback model."
Role Model
The governor has said his brand of conservatism and record is a model for the country, and that Republicans need to show they can follow their principles while still working collaboratively to get results for all citizens.
"We're not going to win if we just feel good about ourselves and don't take this message of unity across this great country," Kasich said April 18 at the First in the Nation Republican Leadership Summit in New Hampshire.
The Ohio governor also has said he has "more experience than anybody in the field" and "one of the best records in the country as a governor."
Asked by an audience member in New Hampshire on April 18 about running for president, Kasich said he's considering his family and the other factors involved in deciding.
"Don't commit too soon," Kasich told the New Hampshire crowd. "Let us all have a chance to breathe and get out."
Before it's here, it's on the Bloomberg Terminal.
LEARN MORE