Jeb Bush Schedules European Swing as He Prepares for Presidential Bid
Foreign policy is sure to stay in the spotlight during the Republican nomination battle.
by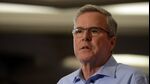 Jeb Bush, a likely candidate for the Republican presidential nomination in 2016, will visit three NATO countries—Germany, Poland, and Estonia—in June, spokeswoman Kristy Campbell said Monday.
Given a tumultuous Middle East and the likely Democratic nomination of former Secretary of State Hillary Clinton, foreign policy is sure to stay in the spotlight during the GOP nomination battle.
Several other likely Republican candidates have made trips abroad recently, with varying levels of success.
Wisconsin Governor Scott Walker tripped over a question about evolution in London in February, before completing a smoother European trade mission this month. New Jersey Governor Chris Christie faced trouble over vaccination comments he made in the U.K. amid a measles outbreak in the U.S. in February.
Reuters reported on Bush's plans earlier Monday. Bush, a former governor of Florida, will "be listening to [the countries'] perspectives on growing security challenges in the region," Campbell told the news agency.
Michael C. Bender contributed to this report.
Before it's here, it's on the Bloomberg Terminal.
LEARN MORE