Inspectors Need Full Access in Iran Nuclear Deal, Moniz Says
Jim Snyder and Indira A.R. Lakshmanan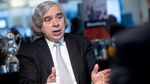 Nuclear inspectors will need unfettered access in Iran as part of a deal to lift economic sanctions, U.S. Energy Secretary Ernest Moniz said a day after an Iranian general said military sites must be off limits.
"We expect to have anywhere, anytime access," Moniz, a nuclear physicist who negotiated the technical details of a framework nuclear accord, said Monday in a meeting with editors and reporters at Bloomberg's Washington office.
Inspections of Iran's military sites under the proposed long-term agreement wouldn't be "frivolous;" they would be part of "a well-defined process," he said. United Nations inspectors would need access to any location if they had well-founded suspicions of covert "out-of-bounds activities."
On Sunday, Brigadier General Hossein Salami, deputy head of Iran's Revolutionary Guard Corps, said "they will not even be permitted to inspect the most normal military site in their dreams," according to the state-run Press TV.
The U.S. and five other world powers on April 2 in Switzerland announced a framework for an agreement to curb Iran's nuclear program in exchange for relief from economic sanctions. The negotiators have set a June 30 deadline to reach a final deal.
Inspectors' Access
Access for UN inspectors is one of the biggest hurdles to a final deal designed to prevent Iran from developing a nuclear weapon. Iran's Ayatollah Ali Khamenei has said inspectors would be barred from certain military facilities.
In response to Moniz's comments, the deputy head of Iran's Atomic Energy Agency, Behrouz Kamalvandi, said Iran hasn't agreed to "anywhere, anytime" inspections, saying "negotiations are continuing," the Iranian Students' News Agency reported.
The other major obstacle to a deal is agreement over the pace of sanctions relief. Iran wants oil and financial sanctions lifted immediately upon signing a deal, while the U.S. and its partners have said Iran first needs to scale back its nuclear program -- a process that Moniz predicted would take six months to complete -- before sanctions will be eased.
White House spokesman Josh Earnest signaled a possible compromise Monday, saying sanctions relief can come after "Iran has begun taking the tangible, measurable, verifiable steps that they commit to." Until now, U.S. officials have insisted Iran will have to complete -- rather than simply begin -- limiting its nuclear activities before sanctions relief will begin.
'Creative Negotiation'
Earnest said there will be no lifting of sanctions before actions are taken by Iran. On Friday, President Barack Obama said getting agreement over sanctions relief will require "creative negotiations" on the part of Secretary of State John Kerry and his team, including Moniz.
In his interview, Moniz said he thought it would take Iran at least six months to meet the terms of a deal sufficient to warrant relief from the sanctions. Those terms include reducing its stockpile of enriched uranium to 300 kilograms from 10,000 kilograms and cutting the number of centrifuges.
"I would say six months or so, to me, looks to be about perhaps the minimum that will be required to execute all those steps," so that inspectors can verify Iran's compliance before sanctions relief is given, Moniz said on Bloomberg Television. "Iran may be able to pick up the pace and lower that somewhat."
"Sanctions timing and access are going to be the two issues that have to be resolved appropriately," Moniz said. "And if not appropriately, I don't see how we can go forward."
Oil Exports
Moniz also discussed calls from lawmakers to permit U.S. oil exports, which have largely been banned since the Arab oil embargo 40 years ago.
Senator Lisa Murkowski, an Alaska Republican and the chairman of the Senate energy committee, said last week the restrictions were inappropriate given the increase in U.S. oil production, and the prospect Iran would be able to sell its oil on world markets if a nuclear deal is struck.
Moniz said the administration was reviewing the policy, but he noted that the U.S. is still "a very large" importer of oil, unlike Iran.
"I think that perspective has to be retained in this discussion," he said.
A potential swap of light sweet crude from the U.S. with heavier crude from Mexico, now under review by the U.S. Commerce Department, was an "interesting possibility," as an interim step, Moniz said. U.S. producers have said U.S. production may outstrip the ability of refiners to process the oil, creating a glut that would discourage more drilling and lead to additional job losses for the industry.
Moniz said U.S. refiners are modifying their facilities to process greater amounts of the light crude produced in places like North Dakota's Bakken field and Texas's Eagle Ford formation.
Before it's here, it's on the Bloomberg Terminal.
LEARN MORE