Hillary Clinton Says Clinton Cash Criticisms Are Just 'Distractions'
On the campaign train in New Hampshire, she brushes aside the attention a new book about her family foundation is receiving.
by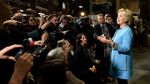 KEENE, N.H.—Hillary Clinton dismissed scrutiny of the Clinton Foundation's donors as just part of running for president and said here Monday that she's ready for the incoming attention.
"It's worth noting that Republicans seem to only be talking about me," she told reporters after a roundtable discussion on small businesses at Whitney Brothers, an educational furniture factory. "I don't know what they'd talk about if I weren't in the race."
Clinton's comments came after the New York Times reported late Sunday on Clinton Cash, a book about the vast wealth that she and former President Bill Clinton have amassed over the past 15 years, and the behemoth that their family foundation has become. 
Clinton said her focus is on talking to voters and hearing about what matters to them. Events like the one she'd just finished are "exactly what I want to do."
But, she acknowledged, campaigns draw "distractions and attacks. And I'm ready for that."
Also on Bloomberg Politics: The Definitive Hillary Clinton Scouting Report, by Mark Halperin and John Heilemann
In a Monday interview on the Charlie Rose show on PBS, Clinton campaign chairman John Podesta was equally dismissive of the forthcoming book and its author, Peter Schweizer.
"It's a book that's written by a former Bush operative who's a reporter for that news institution, breitbart.com, or has been in the past," Podesta told host Al Hunt. "He's cherry-picked information that's been disclosed, and woven a bunch of conspiracy theories about it. The facts, there's nothing new about. The conspiracy theories, I guess, you know, we'll get to judge when we read the book."
Before it's here, it's on the Bloomberg Terminal.
LEARN MORE