Hillary Clinton Signals Willingness to Get Tough on Wall Street Traders
The Democratic presidential frontrunner says she is open to reexamining the capital gains tax.
by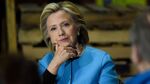 KEENE, N.H.—Hillary Clinton is likely months away from offering policy proposals on taxes and financial regulation, but she hinted on Monday that she hopes to get tougher on traders and reexamine the capital gains tax.
Clinton said at a small business roundtable here that she plans to "take a hard look at what is now being done in the trading world, which is just trading for the sake of trading."
Her focus is on advocating for policies that will help build real products and businesses rather than helping boost the financial markets.
"We have to say, look, if you're making something which is enhancing the economic productivity, but if it's just playing back and forth in the global marketplace to get one tenth of one percent of advantage, maybe we should not let that go on because that is unfortunately kind of at the root of some of the economic problems that we all remember from '08," she said.
Also on Bloomberg Politics: The Definitive Hillary Clinton Scouting Report, by Mark Halperin and John Heilemann
One way to make some changes might be through tax reform, Clinton suggested.
"We have to look at the whole tax system and try to figure out what is an economic investment as opposed to one without economic purpose because there are a lot of those where people are just basically playing games," she said. The capital gains tax, she reminded, was introduced as "a way to reward people who made risky investments" in businesses, not to reward people who trade financial products.
Before it's here, it's on the Bloomberg Terminal.
LEARN MORE