Supreme Court Rejects Ex-Goldman Director Rajat Gupta's Appeal
Greg Stohr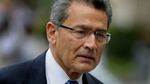 The U.S. Supreme Court rejected an appeal from former Goldman Sachs Group Inc. director Rajat Gupta, leaving him to continue serving his two-year prison sentence for insider trading.
Gupta, 66, was convicted in 2012 of passing illegal tips to Raj Rajaratnam, a co-founder of the Galleon Group LLC hedge fund. Gupta, also a former McKinsey & Co. managing partner, is the highest-profile executive convicted in a U.S. crackdown on insider trading at hedge funds. He is due to be released in March 2016.
At the Supreme Court, Gupta argued unsuccessfully that jurors should have been told they could acquit him solely on the basis of character evidence. Gupta also contended that his daughter should have been allowed to testify about conversations she had with her father about Galleon and Rajaratnam.
Gupta's Supreme Court lawyer, Seth Waxman, declined to comment on the high court's action Monday. The court rejected the appeal without explanation in a one-line order.
The Supreme Court in January rejected Gupta's appeal in a civil case filed by the Securities and Exchange Commission. That rebuff left in place a lifetime ban on serving as an officer or director of a public company.
In June, Justice Ruth Bader Ginsburg refused to let Gupta remain free on bail while he appealed his conviction.
Gupta is still pressing a separate bid to have his conviction thrown out on the basis of a federal appeals court decision issued in December. That ruling said prosecutors must show that a defendant received a personal benefit for passing on illegal tips.
Rajaratnam received an 11-year sentence. Both men are serving their time in a federal prison in Devens, Massachusetts.
The case is Gupta v. Securities and Exchange Commission, 14-534.
Before it's here, it's on the Bloomberg Terminal.
LEARN MORE