Book Said to Document Government Favors for Clinton Donors
A spokesman calls it "partisan-fueled fiction."
by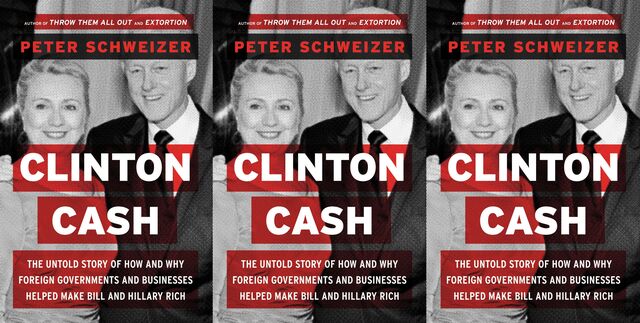 A book set for publication next month purports to show that donors to Hillary Clinton's family foundation and groups that hired her husband for speaking engagements received government favors while Clinton led the State Department, the New York Times reported Sunday.
Author Peter Schweizer, a former George W. Bush consultant, cites as an example "a free-trade agreement in Colombia that benefited a major foundation donor's natural resource investments in the South American nation," the Times said. The book also says more than $1 million in payments were made to former President Bill Clinton "by a Canadian bank and major shareholder in the Keystone XL oil pipeline around the time the project was being debated in the State Department," according to the Times.
Clinton campaign spokesman Brian Fallon called the book "partisan-fueled fiction," the newspaper said.
The Times cited copies of the book, Clinton Cash: The Untold Story of How and Why Foreign Governments and Businesses Helped Make Bill and Hillary Rich, which is due to be published May 5. The newspaper also said it, the Washington Post, and Fox News "have exclusive agreements with the author to pursue the story lines found in the book."
In a statement e-mailed by a spokeswoman later Monday, Post national editor Cameron Barr said about his newspaper's involvement: "We made an arrangement with Peter Schweizer's publisher so we could read his book before publication because we are always willing to look at new information that could inform our coverage. Mr. Schweizer's background and his point of view are relevant factors, but not disqualifying ones. What interests us more are his facts and whether they can be the basis for further reporting by our own staff that would be compelling to our readers. There is no financial aspect to this arrangement."
Also on Bloomberg Politics: The Definitive Hillary Clinton Scouting Report, by Mark Halperin and John Heilemann
The story could be a distraction for Clinton as she visits New Hampshire this week for the first time as an official candidate for president in 2016. The run-up to her April 12 announcement that she would seek the White House was dogged by questions about foreign donations to the foundation and her use of private e-mail as secretary of state. Republican candidate Rand Paul, a Kentucky senator, has appeared to allude to the book in recent days, saying on Fox News, "I think there are things that went on at the Clinton Foundation that are going to shock people."
Clinton has defended the legality of her e-mail arrangement and said she turned over all relevant messages to the State Department. The foundation said last week it would limit donations to six countries and disclose receipts more often now that Clinton is a candidate.
Gerry Smith contributed to this report.
Before it's here, it's on the Bloomberg Terminal.
LEARN MORE