Possible Hillary Clinton Challengers Critique Her Debut, From the Sidelines
Martin O'Malley calls the prospect of an uncompetitive primary an "extreme poverty."
by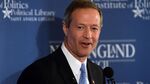 They're not in it to win it themselves—not yet, at least—but possible Democratic primary challengers to Hillary Clinton had plenty to say on Sunday about the newly official presidential candidate.
Former Maryland Governor Martin O'Malley led the call for a competitive primary, appearing on CBS's Face the Nation a day after more than a dozen Republican White House hopefuls wrapped up a cattle call in New Hampshire.
"I think it would be an extreme poverty indeed if there weren't more than one person willing to compete for the presidential nomination of the Democratic Party," O'Malley said, according to a transcript from the network. He'll decide whether to run by the end of May, he said, and would make a better president than Clinton "because of the experience that I can bring to this job."
Former Senator Jim Webb of Virginia, who formed an exploratory committee in November, jabbed at Clinton's fundraising power, carefully constructed image, and lengthy public career.
"We're never going to have this financial leviathan machine that's going to pull in $2.5 billion, as some people do. I'm never going to have a political consultant at my side, whispering what I should say or how I should dress or whether I ought to go to Walmart or not," Webb said on CNN's State of the Union. "But what we do have is long experience on the issues in and out of government, strong beliefs about where the country needs to go, and I think the kind of leadership where we can govern."
"I think we've got a lot of incumbent fatigue in the country and I think people are looking for fresh approaches in terms of how to solve the problems of the country," Webb also said.
Vermont Senator Bernie Sanders, an independent, said he was skeptical of candidates' willingness in either party to take on the so-called billionaire class.
"I think that is the that we have to wage if we are going to save the middle class and I do have doubts about whether Hillary Clinton or whether any Republican candidate out there is prepared to take on the big money interests who control so much of our economy and, as a result of Citizens United, our political process, as well," Sanders said on Fox News Sunday, adding that he will decide whether to run in "the near future."
Sanders also criticized the potential Trans-Pacific Partnership trade deal, saying, "You're looking at a guy who was in the House and the Senate and voted against all of these terrible trade agreements." Clinton had signaled support for the measure in the past, but on Friday through a spokesman outlined conditions for the measure.
Aside from the field of possible Clinton competitors, other Democrats on Sunday offered mixed reviews of her new bid.
Former Obama adviser David Axelrod said that Clinton's campaign got off to a good start with her road trip to Iowa, but that she has room for improvement.
"I would do more unscripted, drop in on diners, drop in on taverns, interact with people," Axelrod said on NBC's Meet the Press. "Because you authenticate these interactions by working without a net. And I think she has to do some of that."
Missouri Senator Claire McCaskill, who supported Barack Obama in the contentious 2008 primary, offered an explanation for her quick endorsement of Clinton this time around.
"Anyone can challenge Hillary Clinton if they would like to," McCaskill said on ABC's This Week, according to a transcript from the network. "The reason people aren't challenging her is because of her qualifications. ... Listen, [2008] was a tough choice. I am glad I don't have that kind of tough choice this time. This is not a hard choice. And I don't think it will be a hard choice for America."
Before it's here, it's on the Bloomberg Terminal.
LEARN MORE