Lindsey Graham's Surprising Fans
The GOP's campaign finance reformer.
by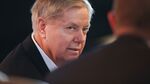 New Hampshire's small but ambitious campaign reform movement has found its champion -- and he is a Republican. South Carolina Senator Lindsey Graham, who says he will decide by late May or early June whether to make the presidential race, has come out in favor of a constitutional amendment to allow money limits of the sort currently barred by Supreme Court decisions.
He did so after the reformers asked. The "New Hampshire Rebellion" campaign has taken to "bird-dogging" candidates, making sure supporters show up at town hall meetings to ask a sharp question about reform. Graham, alone among candidates, has told them what they craved to hear.
"The only way you can change this, I think, is through a constitutional amendment," Graham said at an April 8 event in New Hampshire, according to audio provided by New Hampshire Rebellion. "I don't know if we can get one passed, but here is what you've opened up. Right now, I need about $15 million to be competitive on the campaign side.  That is a lot of getting on the phone, and calling, and $2,700 events, and a lot of just fundraising. But one person who doesn't like me can write a check to wipe all that out. What I worry about is that we are turning campaigns over to about 100 people in this country, and they are going to be able to advocate their cause at the expense of your cause."
Asked if he really favored a constitutional amendment, Graham reiterated his stance. "I think that is probably the only way," he said. "Can't think of a better way." He went on to say that "the next president of the United States ought to get some smart people in a room and say, all right, give us some views, some options here -- how can we constitutionally move forward where no one party gets an advantage over the other?"
That appears to put Graham on the same side of the campaign finance debate as Hillary Clinton. The New York Democrat also recently endorsed a constitutional amendment to impose limits on the reach of big money in politics. 
No Republican has even tried to match Graham, whose Senate mentor, John McCain of Arizona, coauthored the last major campaign finance reform bill to pass Congress. Kentucky Senator Rand Paul has answered the question by arguing for limits on the defense contracts given to companies that spend big money in politics. Texas Senator Ted Cruz has said that any attempt to restrict spending would be a blow against the First Amendment. Other candidates have said they'd limit lobbying, but not campaign spending.
All of the answers are collected by New Hampshire Rebellion, which spent Saturday trying to inject the campaign finance reform debate into the First in the Nation Summit of GOP presidential hopefuls. Early in the morning, a couple dozen activists gathered in Lowell, Massachusetts, to march across the state border to Nashua. Shortly after 12:30 p.m., they were set to convene at Nashua's city hall, where a larger group of protesters were set to march on the conference, three miles away.
It was not meant to be so hard. A month earlier, the New Hampshire Rebellion had purchased a $500 sponsorship of the summit. On Tuesday, conference organizers belatedly kicked out the reformers and refunded their fee. "This summit is an event for Republican activists to hear from our potential presidential candidates," said New Hampshire GOP chair Jennifer Horn, "not a platform for the self-absorbed antics of a liberal Harvard professor."
That was a reference to Larry Lessig, the academic who had founded Mayday PAC -- and spent money against Scott Brown's 2014 Senate run. His participation in some New Hampshire Rebellion marches was enough to toxify the group in Republican eyes, even though it worked hard to be nonpartisan. After about 1 p.m., when the marchers were united at Nashua's city hall, the organizers staged a short skit in which a "George III" impersonator read a pompous speech, stopping only when "Paul Revere" arrived on a horse to stop him.
"It's your turn to take up the challenge!" the Paul Revere impersonator said as her horse circled the plaza in front of city hall, fellow marchers wearing mock-revolutionary era hats. "Make this Patriot's Day your day!"
Yet the march concluded as expected -- with Paul Revere and the rest of the activists blocked from entering the Crowne Plaza hotel. They gathered across the street at a tailgate, New Hampshire Rebellion executive director Daniel Weeks flipping burgers and hotdogs for fellow activists. In conversations, many said they liked Graham.
"So far, he's taken the lead, honestly," said Weeks. "We demand that candidates not just say nice things and soundbites. So far the most concrete solutions we've heard are from Lindsey Graham."
In the hotel itself, Graham gave a well-received speech, then told reporters he needed $15 million to make a serious bid for president. Bloomberg News asked him if his support for funding disclosure and limits would hamper his ability to raise that money.
"I think after this 2016 election cycle, people are going to be begging for some help," said Graham. "We're going to have money dumped into this election cycle that's going turn off the American people and somebody needs to deal with unlimited money being spent, not knowing who's doing the spending. It's really going to hurt democracy."
Within a five-day period last year, Graham cast a vote on both sides of the campaign finance debate. He was one of nearly two dozen Republicans to vote in favor of advancing debate on Senator Tom Udall's proposed constitutional amendment on campaign finance. But a few days later, Graham and a number of other Republicans voted to kill the New Mexico Democrat's measure.
Before it's here, it's on the Bloomberg Terminal.
LEARN MORE